HDD 3.0 Raid Double Box II (6G)
HDD 3.0 Raid Double Box II (6G)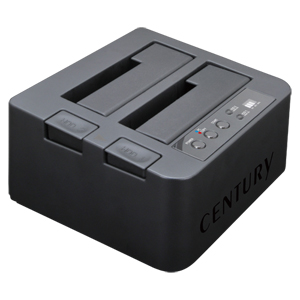 High speed interface USB 3.0 (UASP compatible) & eSATA installed!
USB 3.0 connection! High-speed transfer of up to 5 Gbps (theoretical value) possible! You can also connect with USB2.0.
RAID function installed! You can select a total of 4 modes including two types of RAID, mirroring (RAID 1) and striping (RAID 0), combine (2 consolidated authentication), and standard (2 individual recognition) according to the application.
Even faster data transfer is possible with SATA 6 Gbps compatible!
Easy built-in design just by opening the door and inserting the HDD!
Power interlocking function to control the rotation / stop of HDD / cooling fan in conjunction with power ON / OFF of PC!
Supported HDD
3.5 inch SATA HDD (SATA I / II / 3.0 / 1.5 Gbps / 3.0 Gbps / 6 Gbps)
This product is for SATA HDD only. HDD with PATA (IDE) specification can not be connected.
This product is compatible with SATA 6 Gbps HDD, transfer rate is the upper limit of each host interface for USB3.0 / eSATA interface side.
Product Sheet
HDD 3.0 Raid Double Box II (6G)