Mini HDD Copy Pro III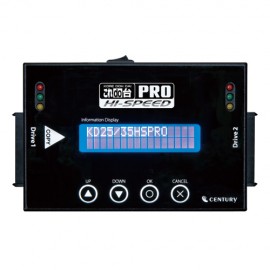 Mini HDD Copy Pro III supports transaction between SATA 2.5" HDD, SATA 3.5" HDD and SATA SSD. It can transfer complete data from one HDD/SSD to the second HDD/SSD in high speed and no PC is required. Data of the HDDs can be erased by different security levels and speeds! Insecure parts would be excluded from the copy range (of Windows).
Moreover, when using our former product, if there is a sector error in the disk, it should stop copying. However, this product at the time of error occurred , it will skip at an error point and continue copying. Mini HDD Copy Pro III is equipped with big LCD panel, you can confirm the operating situation at a glance. Convenience of operation is the best level ! Mini HDD Copy Pro III also has a new super high speed transaction 250MB/SEC which is two times faster than the other models.
Specifications
Product name
HDD Mini Copy Pro III
Model number
KD25/35HS
Dimension
136 mm (W) x 87 mm(D) x 26 mm(H)
Weight
430 g
Supported interface
SATA I/II/1.5Gbps/3.0Gbps
Power
AC IN – 100-240V ; DC OUT – 12V 3A
Data Sheet