LaCie d2 Thunderbolt 3
Reliably Capable.
Two decades, one purpose. Since 1997, LaCie d2 storage has been so dependable, so finely calibrated for high-bandwidth tasks, that creative pros have been able to focus entirely on what they do best: creating.
More Compatibility, Space, and Reliability. Less of Nothing.
The perfect complement to SSD-based laptops and all-in-one computers, the new d2 Thunderbolt™ 3 massively expands your capacity up to 10TB for professional bandwidth-intensive creative applications. With Thunderbolt 3 and USB 3.1 speeds through the USB-C port, the new LaCie d2 performs perfectly on late model laptops such as the new MacBook Pro—as well as on USB 3.0-compatible computers. It's also the first LaCie product to feature the Seagate BarraCuda Pro HDD for industry-leading performance and reliability, backed by a 5-year limited warranty.
Thunderbolt 3: Power and Versatility
From a single, mighty port, you get astonishing bandwidth with the versatility of the USB-C industry standard. For the LaCie d2 Thunderbolt 3, the result is performance up to 240MB/s* for cutting-edge creative workflows, the widest compatibility, and time-saving device configurations.
Laptop Charging
It's even possible to power a compatible laptop** through a USB-C (Thunderbolt 3 or USB 3.1) port. That's one less cable cluttering up your desktop.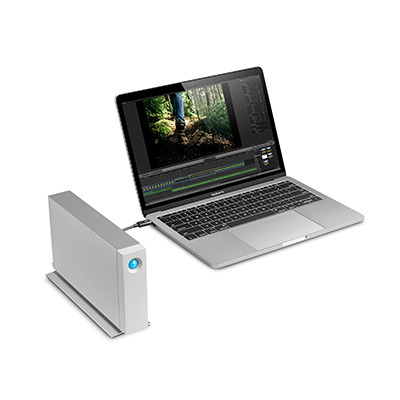 Compatibility
PC or Mac? USB-C, USB 3.0, Thunderbolt 3, Thunderbolt 2? Whatever the OS or host port, you're covered, whether through included cables or for purchase separately.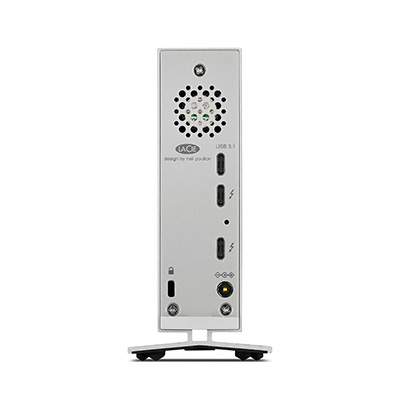 Cooling
The whisper-quiet fan and heat-dissipating aluminum enclosure pull heat away from the HDD, keeping it running fast and healthy.
Datasheet
LaCie d2 Thunderbolt 3