TVS-1282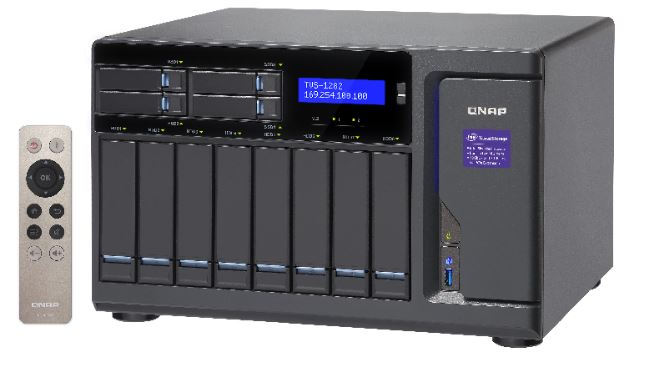 The TVS-1282 features advanced hardware by adopting 6th Generation Intel® 14nm multi-core processors and was designed around the concept of tiered storage, application-based partitioning and network traffic distribution. Featuring PCIe Gen.3 slots that can support 10GbE/40GbE NIC, PCIe NVMe SSD, graphics cards, and USB 3.1 expansion cards, the TVS-1282 also supports smooth 4K 60 fps video transfer and display, cross-platform file sharing, comprehensive backup and disaster recovery, iSCSI & virtualization and more business applications. Incorporating reliability and security, the TVS-1282 presents an ideal choice for a complete business-ready storage solution.
• Built-in M.2 SATA 6Gb/s slots & 2.5" SSD slots
• Qtier technology and SSD cache enable 24/7 optimized storage efficiency
• The Network & Virtual Switch app assists network traffic distribution, and re-routes dedicated bandwidth for diverse applications
• Triple HDMI output (including one HDMI 2.0) for smooth 4K video playback
• Scalable design with economical QNAP storage expansion enclosures
• Virtual JBOD (VJBOD) allows to use QNAP NAS to expand the TVS-1282's storage capacity
• Supports QRM+ unified remote server management, QvPC technology, virtual machine and container applications, and storage for virtualization

The TVS-1282 is powered by high-performance 6th Generation Intel® multi-core processors with options including Core™ i3, Core™ i5, and Core™ i7, increasing system performance by 20% – 30% compared with previous generations. It greatly enhances the efficiency of CPU-demanding applications such as virtualization, real-time 4K video playback, and serving large numbers of simultaneous connections.
The TVS-1282 provides 4 SSD slots dedicated for caching to increase IOPS performance, and provides higher transfer speeds and reliability with the compact, energy-efficient M.2 SSD. Using an SSD cache boosts overall system performance, and is perfect for improving overall workflow of random IOPS demanding applications such as virtualization. The TVS-1282 combines M.2 SSD, 2.5" SSD and HDD in one box to effectively realize tiered storage for exceptional application performance and lower TCO of storage at the same time.
The advanced hardware design of TVS-1282 can facilitate optimized storage deployment based on different usage scenarios.
QNAP's Qtier Technology empowers the TVS-1282 with Auto Tiering that helps continuously optimize storage efficiency across PCIe NVMe SSD, M.2 SSD, SSD and SATA drives. With Auto Tiering, the TVS-1282 can automatically move frequently-used "hot" data to high-performance storage tiers and less-accessed "cold" data to lower-cost, higher-capacity drives, making the TVS-1282 an extremely efficient shared resource. Businesses will no longer have to invest heavily in expensive Flash technology, but can still enjoy exceptional application performance and cost efficiency from Auto Tiering with the TVS-1282.