TVS-EC1580MU-SAS-RP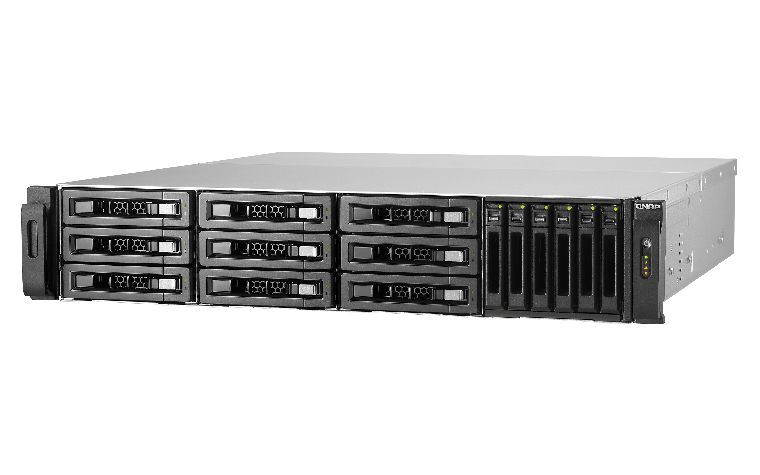 QNAP TVS-EC1580MU-SAS-RP is the world's first unified NAS supporting Auto Tiering to deliver ongoing optimization of data across high-performance SSD, 12Gbps SAS drives and high-capacity SATA disks. Powered by an Intel® Xeon E3 CPU, the 40GbE-ready TVS-EC1580MU-SAS-RP delivers exceptional performance and supports cross-platform file sharing, comprehensive backup solutions, iSCSI & virtualization applications, and more practical business functions. With the powerful QTS operating system, the TVS-EC1580MU-SAS-RP performs as a reliable, scalable and unbeatable unified and tiered storage solution for businesses.
• 3,800+ MB/s throughput and 238,000+ IOPS
• Qtier Technology drives Auto Tiering for optimal storage efficiency
• Built-in 256GB mSATA modules for caching, beneficial to IOPS-demanding applications
• Scalable design, up to 1,102 TB total capacity
• Virtualization-ready, centralized data storage, backup, sharing and disaster recovery
• Backward compatible with SAS/SATA 6Gbps drives
QNAP's Qtier Technology empowers the TVS-EC1580MU-SAS-RP with Auto Tiering that helps continuously optimize storage efficiency. With Auto Tiering, the TVS-EC1580MU-SAS-RP can automatically move hot data to high-performance storage tiers and cold data to lower-cost, higher-capacity drives, making the TVS-EC1580MU-SAS-RP an extremely efficient shared resource. Businesses will no longer have to invest heavily in expensive Flash technology, but can still enjoy exceptional application performance and lower TCO of storage from Auto Tiering with the TVS-EC1580MU-SAS-RP.

The TVS-EC1580MU-SAS-RP supports 12Gbps SAS drives to provide fast data transmission speeds and drive up to 3,816 MB/s throughput and 238,392 IOPS*. Powered by an Intel® Xeon® E3 v3 quad-core processor with 16GB or 8GB DDR3 ECC RAM, the TVS-EC1580MU-SAS-RP greatly enhances the efficiency of CPU-demanding tasks and serves more concurrent tasks. Its 3.5" & 2.5" drive hybrid architecture makes it perfect for creating efficient unified and tiered storage to optimize business operational efficiency, with 2.5" drives allocated for caching while 3.5" drives for massive data storage.

The TVS-EC1580MU-SAS-RP features 2 pre-installed 128GB mSATA modules, and there are no limits on using SSDs for caching. By installing high-performance SSDs, the IOPS performance of storage volumes can remarkably boost. It is perfect for improving overall workflow of random IOPS demanding applications such as database and virtualization. The internal cache port design reserves the space of hard drive tray for more storage capacity.
Product Sheet
TVS-EC1580MU-SAS-RP