ES1640dc v2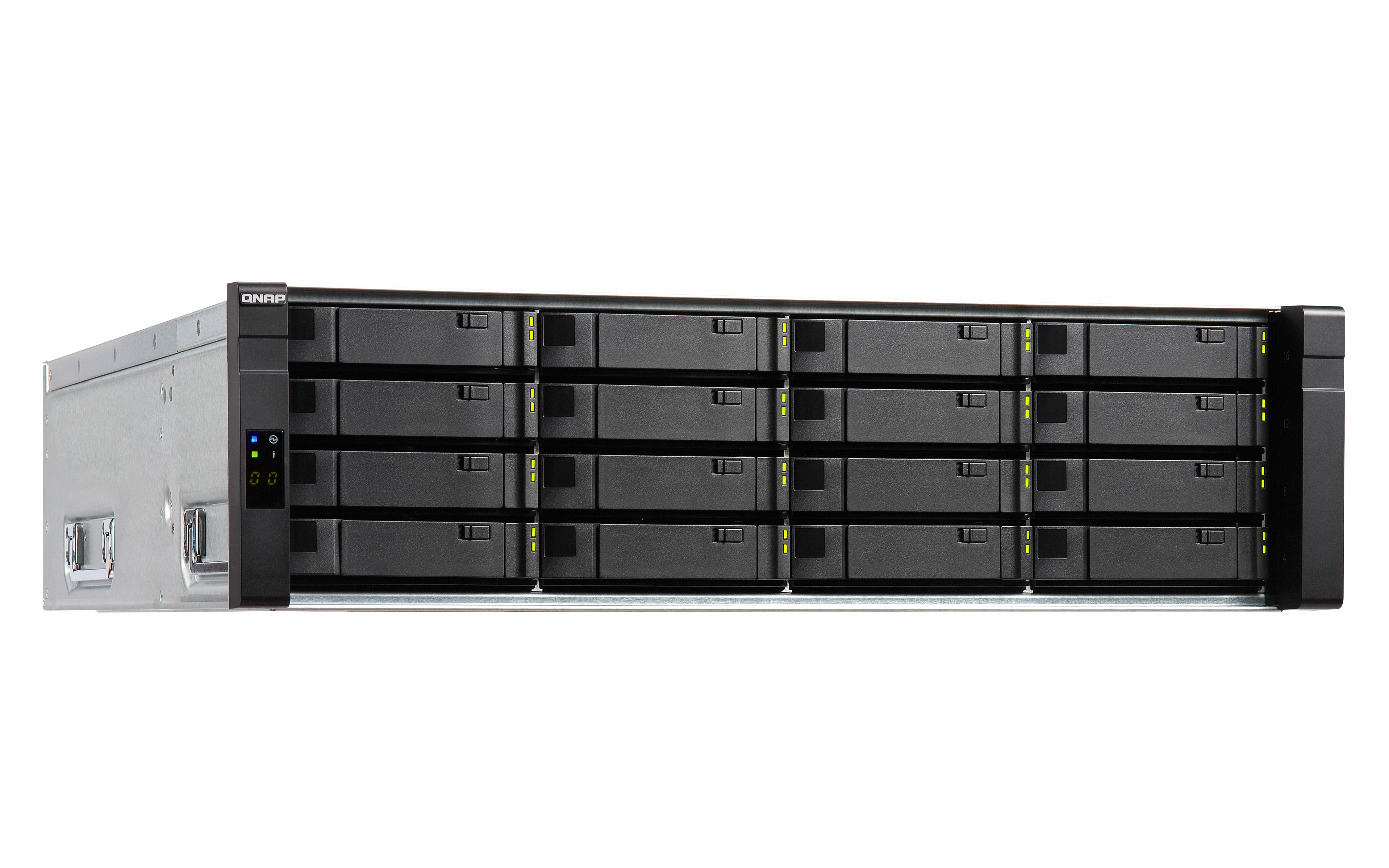 The ES1640dc v2 is whole-new product line developed by QNAP for mission-critical tasks and intensive virtualization applications. With Intel® Xeon® E5 processors, dual active controllers, ZFS, and fully supporting virtualization environments, the ES1640dc v2 delivers "real business-class" cloud computing data storage. The ES1640dc v2 features the brand-new QES operating system that allows almost limitless snapshots, block-level data deduplication, and thin provisioning with reclaim, assisting businesses in building the most cost-efficient VDI platform and storage for critical data.
The ES1640dc v2 is powered by two Intel® Xeon® E5-2400 v2 processors and features dual active-active controller architecture, ensuring businesses with nearly zero downtime high availability as the standby controller can quickly take over if one controller breaks down. The ES1640dc v2 connects to the JBOD enclosure (EJ1600 v2) via the dual path mini-SAS design to sustain continuous operations even if an external JBOD cable is disconnected. Designed around redundancy, the ES1640dc v2 is the best realization of reliable enterprise storage for uninterrupted mission-critical enterprise tasks and productivity.

• Dual active controllers, NVRAM cache, dual mini-SAS channel backup, 40GbE-ready, SAS 12Gb/s-enabled
• QES operating system which is based on FreeBSD and ZFS
• Data deduplication and compression allows hosting over 500 VDI in one chassis
• Near-limitless snapshots and SnapSync for efficient disaster recovery
• NAS and iSCSI/IP-SAN storage supporting VMware®, Microsoft® Hyper-V, KVM and advanced virtualization features
• Fully supports OpenStack® iSCSI Cinder driver
• Scalable design, up to 1 PB total storage capacity

To increase random write performance and reliability, the ES1640dc v2 features NVRAM modules (DRAM Write Cache with Copy-to-flash) to protect write data. When data is written into NVRAM, there are dedicated backup battery units to protect writing to the cache, and at the same time the data is replicated to a backup controller, to achieve 100% data integrity. NVRAM-backed write cache in the dual-controller architecture presents high performance, fault-tolerant, and helps reduce flash SSD write amplification.
The ES1640dc v2 features the brand-new QES (QNAP Enterprise Storage) operating system, which is based on the simple and efficient FreeBSD kernel and the ZFS file system that has been proven through years of experience to be most suitable for high-end enterprise applications. QES supports dual active controller architecture and remote disaster recovery, can be directly integrated into OpenStack® cloud environments, and is designed for intensive virtualization and VDI applications with optimal performance. Continuing the same user experience with the QTS operating system, QES provides business users with an easy learning curve to quickly deploy the ES1640dc v2, and provides the best storage solution jointly with the current QNAP NAS.