TS-1635
Supporting up to twelve 3.5″ HDDs and four 2.5″ SSDs, the TS-1635 is a powerful, high-capacity, quad-core business NAS. It includes two 10GbE SFP+ ports to fully support 10Gb high-speed networks with maximized ROI.
The TS-1635 also supports QNAP's network-based VJBOD (Virtual JBOD), providing an economical method for using unused storage space to expand the capacity of other QNAP NAS units. Furthermore, the TS-1635 features Container Station, which allows you to rapidly develop and deploy Internet of Things (IoT) apps, bringing a valued-added IoT business solution. The TS-1635 is a cost-effective storage solution designed for growing businesses looking for backup, restoration, private cloud, storage for virtualization, and to future-proof their IT infrastructure for 10GbE networks.
10GbE readiness, SSD cache, and hardware-accelerated encryption
VJBOD allows using the TS-1635 to expand the storage capacity of other QNAP NAS
Enjoy containerized virtualization and IoT app development with Container Station
Build a high-capacity private cloud to centrally store, organize and manage high-resolution surveillance footage
Quickly find NAS files using Qsirch – QNAP's proprietary search engine
Centrally manage multiple email accounts with QmailAgent
The TS-1635 supports up to 16 hard drives, providing the storage potential to be a high-capacity data center. Equipped with high-quality hardware, the TS-1635 provides exceptional performance.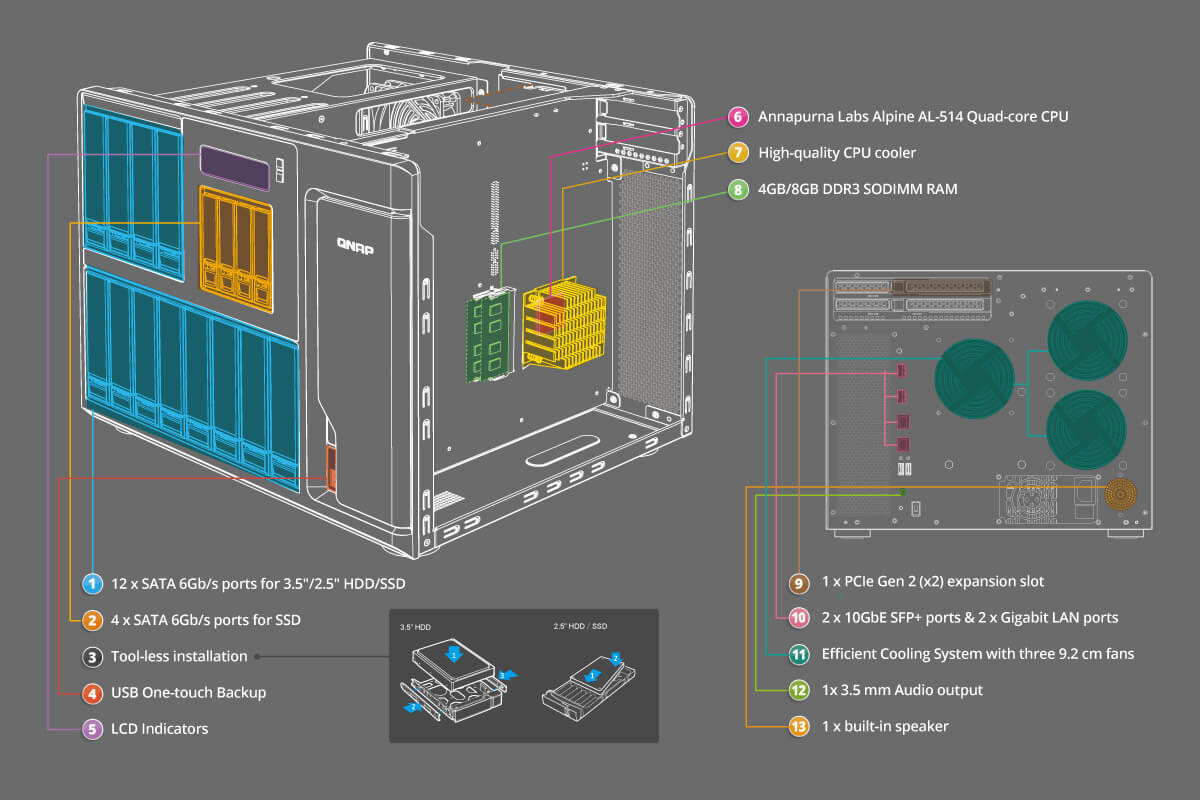 The TS-1635 offers not only two inbuilt Gigabit Ethernet ports but also two 10GbE SFP+ ports to fully support 10GbE high-speed networks, capable of delivering lightning-fast throughput for businesses that demand higher bandwidth for virtualization and fast backup & restoration for an ever-growing amount of data. The extra PCIe slot allows for the installation of a third 10GbE port for flexible high-speed network deployment. Coupled with its large storage capacity potential, the 10GbE-ready TS-1635 is perfect for companies to store massive amounts of data and excel in fast data transmission.
DataSheet
TS-1635