TS-1685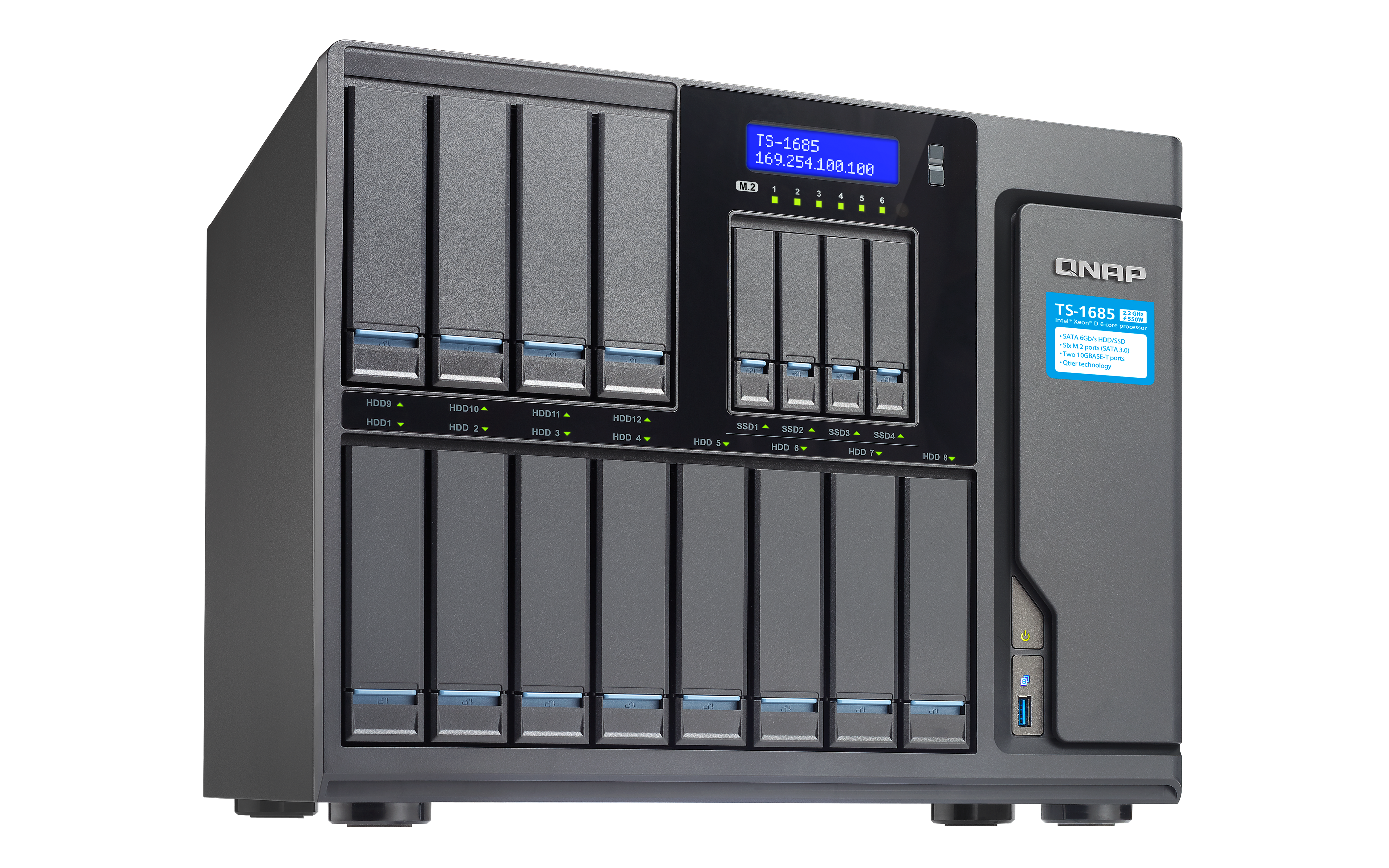 Supporting up to twelve 3.5″ HDDs and four 2.5″ SSDs, the TS-1685 is a high-capacity, robust, and reliable business NAS powered by an Intel® Xeon® D processor. Designed to optimize enterprise IT infrastructure, the TS-1685 comes with three PCIe slots that support 10GbE/40GbE NIC, PCIe NVMe SSD, graphics cards, and USB 3.1 expansion cards. Incorporating security and scalability, the TS-1685 presents an ideal choice for a complete business-ready storage solution with cross-platform file sharing, comprehensive backup and disaster recovery, iSCSI & virtualization, and more business applications.

• NAS and iSCSI-SAN unified storage solution
• Built-in M.2 SATA 6Gb/s slots & 2.5" SSD slots
• Qtier technology and SSD caching enable 24/7 optimized storage efficiency
• 10GbE/40GbE-ready, highly-efficient storage solution for virtualization and intensive data transmission
• Supports virtualization, containerized apps, centralized storage, backup, sharing, and disaster recovery
• Q'center for centrally managing all of your NAS devices, and QRM+ as a centralized management solution for networked computing devices
• Qfiling enabling automated file organization, Qsirch full-text search engine, and QmailAgent for centralized email management
• Scalable up to 56 drive capacity with QNAP expansion enclosures
The TS-1685 supports up to 16 hard drives, providing the storage potential to be a high-capacity data center. Its high-quality hardware enables optimum performance to fulfill diversified application needs.
The TS-1685 provides four 2.5" SSD slots dedicated for caching to increase IOPS performance, and supports higher transfer speeds and reliability with optional six M.2 SATA 6Gb/s SSDs. Using an SSD cache boosts overall system performance, and is perfect for improving the overall workflow of random IOPS demanding applications such as virtualization. QNAP's Qtier Technology empowers the TS-1685 with Auto Tiering that further helps continuously optimize storage efficiency across M.2 SSD, SSD, high-capacity SATA drives, and the optional PCIe NVMe SSD with around-the-clock acceleration. Qtier now supports "On Demand Allocation Priority", providing customizable flexibility to arrange tiered storage suited for your system environments and application demands.
The TS-1685 offers not only four inbuilt Gigabit Ethernet ports but also two 10GBASE-T ports to fully support 10GbE high-speed networks, capable of delivering lightning-fast throughput for businesses that demand higher bandwidth for virtualization and fast backup & restoration for an ever-growing amount of data. The extra PCIe slots allow for installing optional 10GbE/ 40GbE network cards for flexible high-speed network deployment. Coupled with its large storage capacity potential, the 10GbE-ready TS-1685 is perfect for companies to store massive amounts of data and excel in fast data transmission.