TES-1885U
Powered by an Intel® Xeon® D processor, the powerful enterprise-class TES-1885U is open for two operating systems – either the FreeBSD-based QES or Linux-based QTS. While QES supports ZFS for the utmost reliability and allows near-limitless snapshots, block-level data deduplication and real-time data compression, QTS features Qtier Technology, SSD cache, and an abundance of value-added apps to realize storage efficiency and diverse usage applications. The TES-1885U gives the flexibility to choose from two operating systems, enabling businesses to deploy proper operating systems on multiple TES-1885U based on their needs and goals in different stages.
The TES-1885U supports SAS 12Gb/s 3.5"/2.5" drives, allowing for SAS 12Gb/s and SATA 6Gb/s hard drives and SSDs. Businesses can create the most cost-effective storage by implementing suitable drives based on their needs.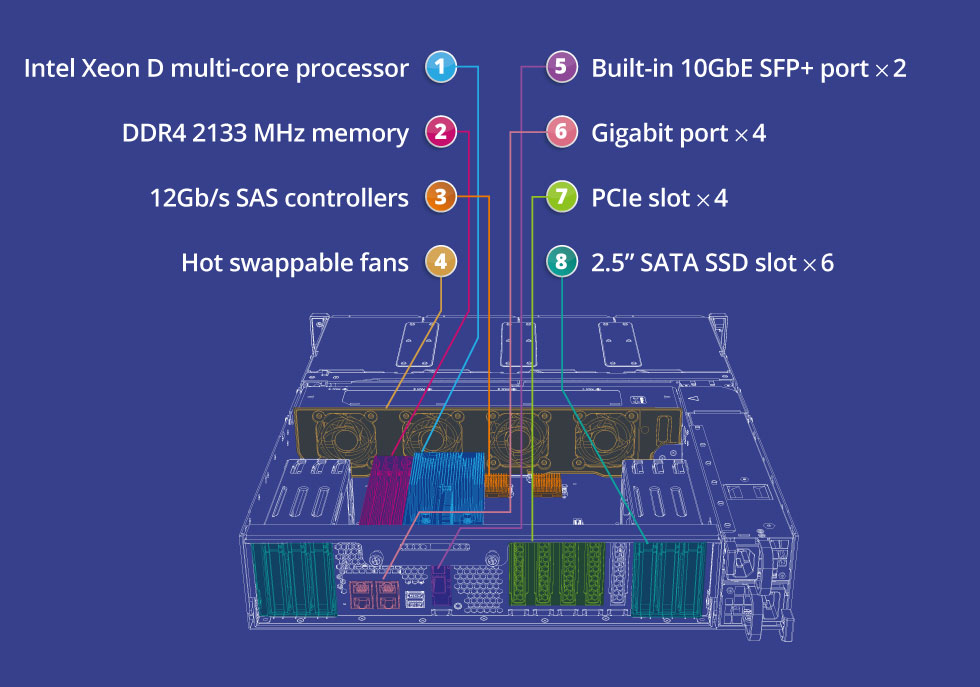 The TES-1885U features ZFS, a combined file system and logical volume manager, to support various advanced functions for high-end enterprise storage, including powerful storage expansion, flexible storage pools, RAID-Z for data protection, simplified management, high-performance SSD cache, nearly limitless snapshots and cloning, data deduplication, in-line compression, self-healing, and thin provisioning with reclaim for optimized utilization for virtual machine storage. ZFS is designed with a focus on data integrity, and uses its end-to-end checksums to detect and correct silent data corruption caused by hardware defects, bugs in firmware or metadata errors, effectively protecting user's data.