TS-253B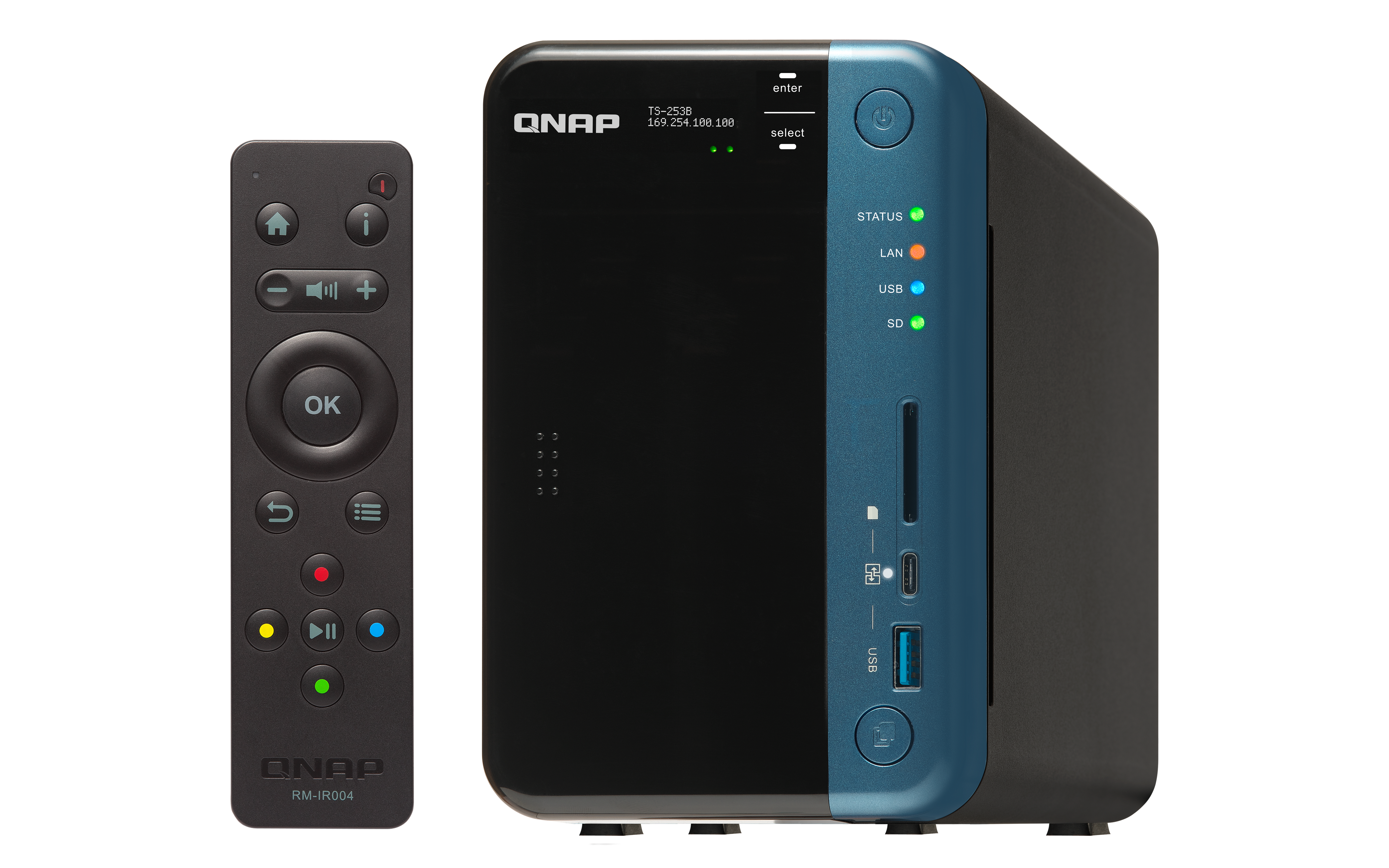 TS-253B new streamline appearance, with high-definition OLED screen and dust-proof capacitive touch button, to create a simple fashion style. It is equipped with PCIe expansion slot to add more application potential, can be installed QNAP QM2 M.2 SSD / 10GbE PCIe expansion card SSD cache and 10GbE new network, with Qtier storage automatic hierarchical partition, to speed up data access; Configure the PCIe wireless network card to make NAS a base station, or USB 3.1 10Gbps expansion card to quickly backup external device data. TS-253B built-in USB-C QuickAccess quick access port and SD memory card slot, no need to network can easily access the file, while supporting 4K audio and video playback and instant transfer, Cinema28 (play it) more room video management, As well as the popular IFTTT network automation services, for the rich entertainment life, while improving the efficiency of the cost-effective storage program.
PCIe expansion slot multiple applications, can be installed QM2 dual port card new M.2 SSD cache or 10GbE network expansion, compatible PCIe wireless card, or USB 3.1 10GbE PCIe card
Built-in USB-C QuickAccess port, do not need to complete the network installation and access to NAS data
Support for virtualized applications, centralized data storage, backup and sharing, and disaster recovery
Support Virtualization Station (Virtual Machine Workstation) and Container Station (software container workstation), a machine to meet a variety of virtualization needs
Supports 4K hardware to decode 4K (H.264) video online for real-time transfer with offline background transfer
Cinema28 play it, centralized management of audio and video streaming device, rich multi-room video experience
IFTTT Agent, workflow automation, improve work efficiency
TS-253B equipped with the latest 14-nanometer technology Intel® Celeron® J3455 quad-core 1.5GHz processor (up to 2.3 GHz) and 4GB / 8GB DDR3L dual channel memory (expandable to 8GB), built-in 2 Gigabit network Port, support SATA 6Gb / s transmission interface, can provide up to 225 MB / s continuous read performance, so that the task is smooth and fast. TS-253B built-in Intel® AES-NI next-generation hardware encryption engine, AES 256-bit encryption acceleration technology, in the NAS machine encryption or folder encryption can maintain up to 225 MB / s data read speed , While protecting important data in the NAS, while maintaining the system's high performance and security.
The TS-253B is equipped with a PCIe expansion slot that allows you to flexibly configure on demand, with a wider and more efficient application. You can use the QNAP QM2 M.2 SSD / 10GbE PCIe dual port card, expand the M.2 SSD cache or 10GbE network transmission on the TS-253B, or configure the compatible wireless network card to make the NAS a wireless network base station, Can also be used with USB 3.1 10Gbps interface easy to connect external USB storage device, through the USB interface to complete the audio and video media and other large files quickly.

Data Sheet:
TS-253B