TS-451A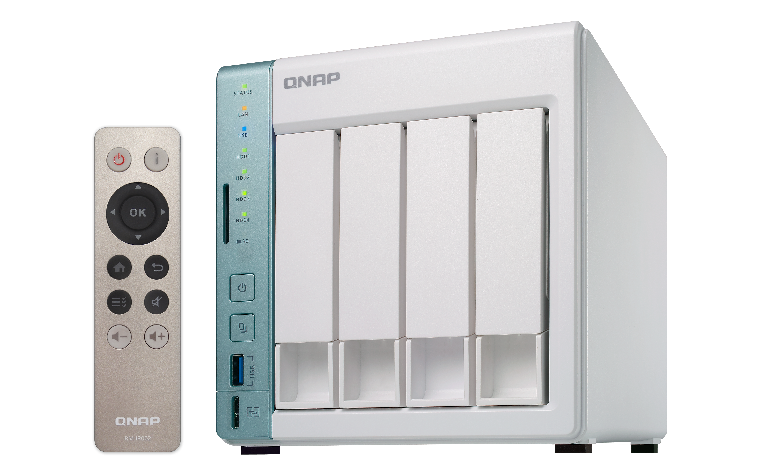 The TS-451A provides the innovative USB 3.0 QuickAccess port that allows you to quickly complete the first-time NAS installation and to then directly access files and data stored on the NAS. It also supports two additional transmission modes: Ethernet NAS mode and iSCSI SAN block-based mode. Combining USB QuickAccess, NAS and iSCSI-SAN into one box, the TS-451A is a powerful but easy-to-use storage solution ideal for backup, synchronization, remote access, and entertainment. It greatly helps to boost productivity and can meet the demands of photographers and audiovisual enthusiasts for direct, quick access to files. The TS-451A is powered by an upgradable and high-performance 14nm Intel® Celeron® N3060 dual-core 1.6GHz processor, and supports 4K video playback and transcoding.
The TS-451A is powered by an advanced 14nm Intel® Celeron® dual-core 1.6GHz processor that features low TDP (only 6 watts) and can automatically burst up to 2.48GHz. Coupled with dual-channel 2/4GB DDR3L-1600 dual-channel RAM (upgradable to 8GB), dual Gigabit LAN ports, and SATA 6Gb/s, the TS-451A can deliver up to 213.4 MB/s throughput for optimizing mission-critical tasks while still being energy efficient. The TS-451A also features Intel® AES-NI hardware-accelerated encryption to deliver up to 205.14 MB/s throughput with AES 256-bit throughput with AES-NI encryption for both full NAS volume and shared folders, boosting system performance & security while ensuring the safety of sensitive business data stored in the NAS.
• Excellent system performance, ideal for centralized management, file sharing and backup.
• USB QuickAccess port for accessing files without needing a network connection.
• Supports 4K hardware decoding and transcodes 4K H.264 videos on-the-fly or offline.
• Enjoy the best audio-visual experience with HDMI output, multi-channel surround sound and the free remote control.
• Build a personal karaoke system with OceanKTV.
• Linux Station supports Ubuntu® with direct output via HDMI.
• A hybrid approach to virtualization: Virtualization Station & Container Station.
• Supports Virtual JBOD (VJBOD) to maximize the storage utilization of multiple QNAP NAS units.
Use a TS-451A as a multi-zone multimedia system to fill every corner of your house with your choice of media. You can centrally manage and stream photos, music and videos stored on the TS-451A to HDMI, DLNA®, Apple TV®, Chromecast™* , Roku®, Amazon® Fire TV or to the devices connected to the TS-451A (music streaming only) through Bluetooth® & USB. With Plex Media Server, the TS-451A is transformed into a powerful streaming machine.
Datasheet
TS-451A