TS-453B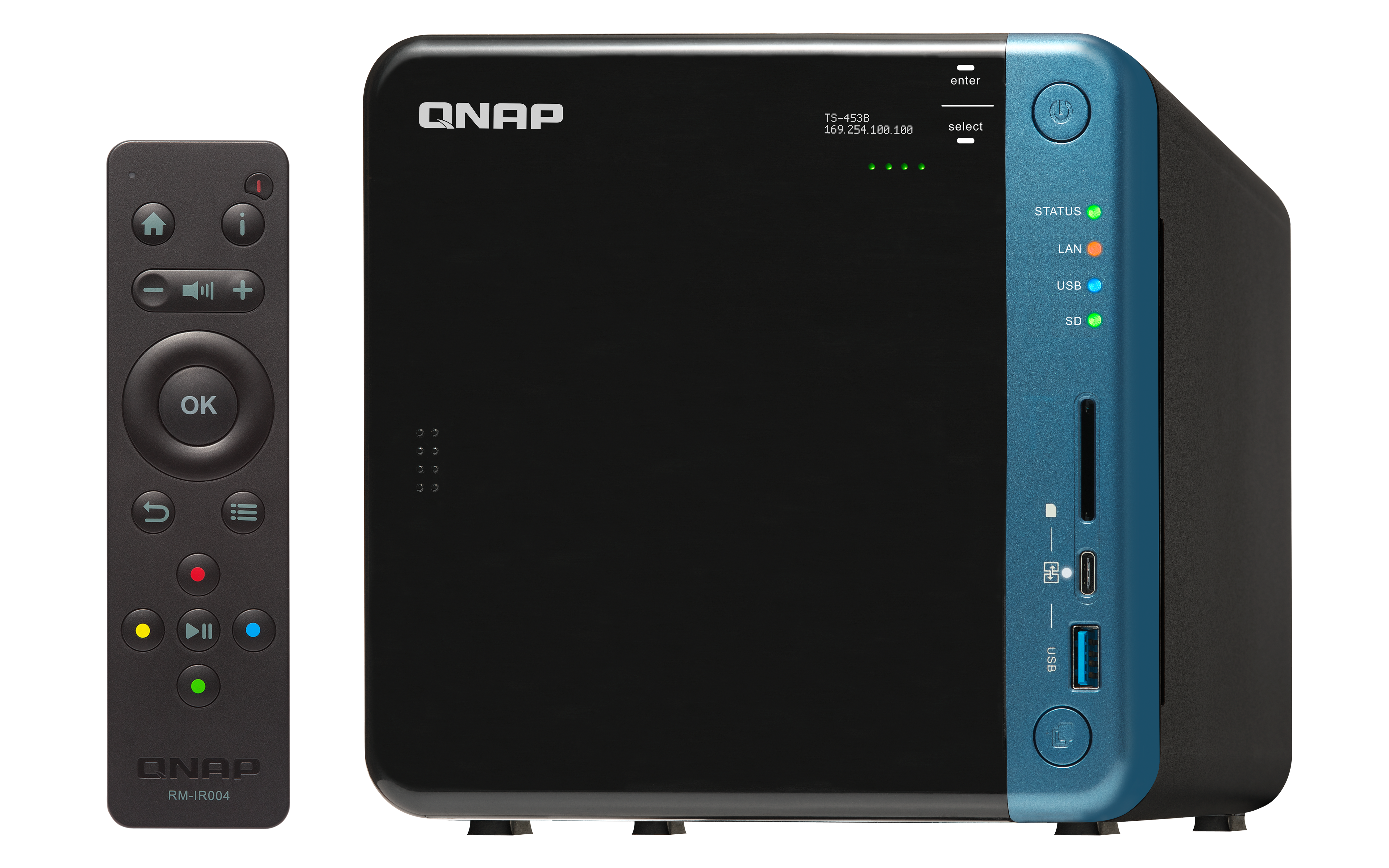 The TS-453B comes with a sleek new look, featuring an OLED panel and two capacitive touch buttons. The TS-453B also features a PCIe port for boosting the potential applications of your NAS: the QNAP QM2 expansion card can be installed for adding an M.2 SSD cache/10GbE connectivity, a compatible wireless card can be installed to use the TS-453B as a wireless access point, and a USB 3.1 10Gbps card can be added for easier backup to/from multiple external storage devices. With a USB Type-C QuickAccess port and a SD card slot, the TS-453B simplifies transferring and sharing files without needing a network connection. The TS-453B also provides feature-rich multimedia functionality, such as 4K video playback and real-time transcoding. The multi-zone multimedia management app Cinema28 and popular web automation app IFTTT Agent also enrich your multimedia experience and NAS automation.
PCIe port supports installing a QNAP QM2 dual-port M.2 SSD/10GbE connectivity, a compatible PCIe wireless adapter, or a USB 3.1 10Gbps card
USB QuickAccess port for direct access to files on NAS without needing a network connection
Supports virtualization, centralized storage, backup, sharing, and disaster recovery
A hybrid approach to virtualization in one NAS: Virtualization Station and Container Station
Supports 4K hardware decoding and transcodes 4K H.264 videos on-the-fly or offline
Cinema28 for centralized management of multimedia devices to enrich multimedia experiences
IFTTT Agent enables web automation for improved working efficiency
With PCIe expansion, the TS-453B provides flexibility in extending NAS functionality and potential applications. Install a QNAP QM2 card to provide M.2 SSD caching/10GbE connectivity, or use the TS-453B as a wireless access point by installing a compatible wireless network card, or boost the USB connectivity of the TS-453B by installing a USB 3.1 10Gbps card.
The TS-453B features an all-new design with a sliding cover. The tool-less 3.5" hard drive installation makes it easier for users to set up and maintain the TS-453B. The OLED front panel displays system information (including temperatures, fan speed, and the capacity of hard drives, volumes and LUN) allowing you to quickly view the overall system status. Dust-proof capacitive touch buttons allow you to easily wake up the screen, change network IP settings and host password or even restart and shut down the system.