TVS-671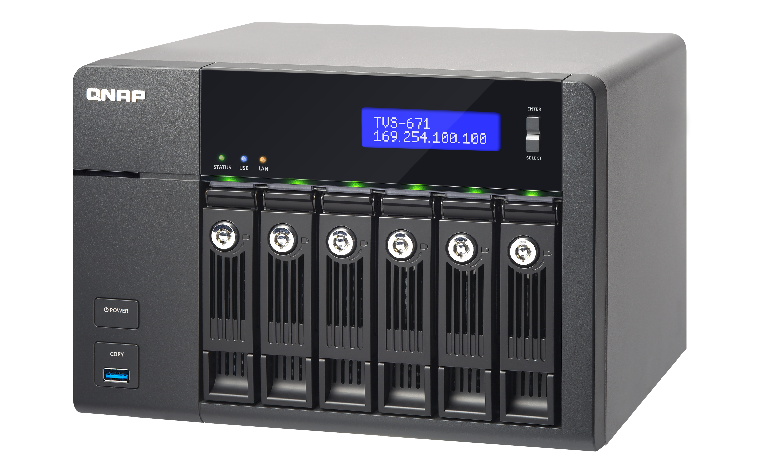 The TVS-671 is a powerful NAS storage solution designed for I/O-intensive tasks, mission-critical business applications and fast-growing data storage needs. Incorporating reliability and security, the TVS-671 delivers high performance with persistent throughput and provides a comprehensive storage solution for SMBs to build a reliable private cloud.
The TVS-671 supports 6Gbps hard drives and 10Gb Ethernet, delivering over 2,300 MB/s throughput and 146,000 IOPS*. The TVS-671 is powered by an Intel® Haswell processor with numerous options including Pentium®, Core™ i3, Core™ i5 and Core™ i7 for users to flexibly choose based on their demands, greatly enhancing the efficiency of CPU-consuming tasks such as running Virtualization Station, real-time 4K video playback & transcoding, and serving large numbers of simultaneous connections.
• Manage, share, and back up business data with Real-time Remote Replication (RTRR)
• 10GbE-ready, highly-efficient storage solution for 4K video playback, transcoding and on-the-fly editing
• Use the TVS-671 as a PC with exclusive QvPC Technology
• Supports VMware®, Citrix®, and Microsoft® Hyper-V and advanced virtualization features
• Full NAS encryption by volume-based technology
• Enhanced data security with high-performance AES 256-bit encryption and anti-virus
• Run multiple Windows/Linux/Android-based virtual machines with the Virtualization Station
Available in PT, i3, and i5 processors.
Product Sheet