TVS-673
The TVS-673 is powered by an AMD embedded Accelerated Processing Unit (APU) that incorporates exceptional CPU and AMD Radeon™ R7 Graphics performance, delivering a high-performance and energy-efficient NAS solution. Built with a state-of-the-art metal design and topped off with a stylish gold finish, the TVS-673 features a powerful quad-core CPU, AES-NI hardware encryption engine, up to 64GB RAM, USB 3.1 (10Gbps) and 10GbE expandability with exceptional performance. Coupled with the unique USB QuickAccess, HDMI 4K output, and 4K H.264 video decoding and encoding acceleration, the TVS-673 running on the new 64-bit QTS 4.3 operating system provides an optimum audiovisual experience and well-rounded private cloud system.

• NAS and iSCSI-SAN (IP-SAN) unified storage solution
• Integrated Radeon™ R7 GPU for 4K video storage and playback
• 10GbE-expandable, highly-efficient storage solution for virtualization and HD video editing & sharing
• USB QuickAccess port for accessing files without needing a network connection
• M.2 SSD cache and Qtier technology jointly realize optimized storage efficiency
• Supports virtualization, centralized storage, backup, sharing, and disaster recovery
• QmailAgent for centralized email management; Qsirch full-text searching tool; Qcontactz for centrally storing and managing contacts
• Use the NAS as a PC with exclusive QvPC Technology and 4K display
• The new QVR Pro surveillance system allows dedicated storage space for surveillance data in the NAS, and leverages the advantages of storage manageability from the QTS.
• Build a personal karaoke system with high-quality audio output using the OceanKTV app

The sturdy and feature-packed hardware of the TVS-673 bolsters overall system performance. Coupled with the flexible and expandable architecture, the TVS-673 can fulfill diversified application needs.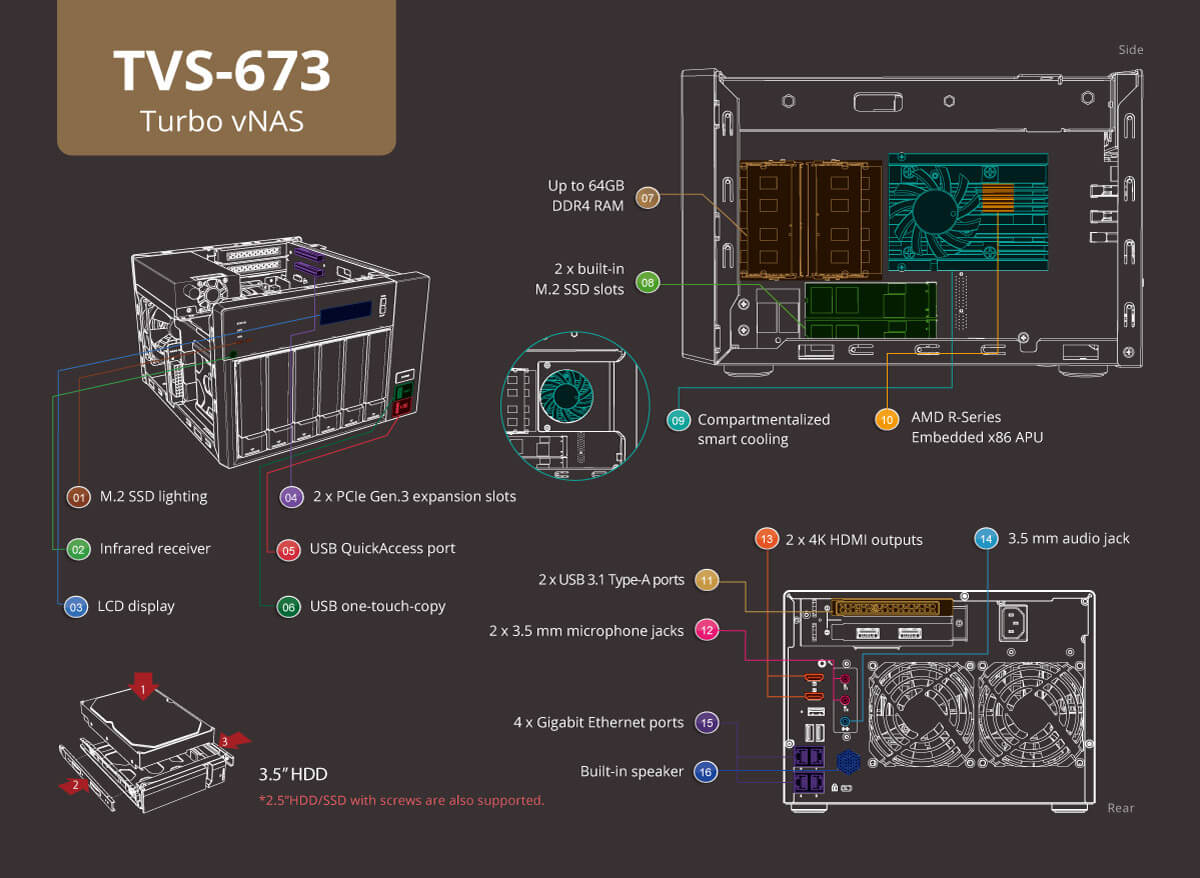 The TVS-673 features two PCIe (Gen.3 x4) slots, one preinstalled with a USB 3.1 Type-A dual-port card, and the other allows for installing an optional dual-port 10GbE (10GBASE-T or SFP+) network card. This allows for greater flexibility in setting up 10GbE environments for high-performance virtualization and backup tasks.