TS-853A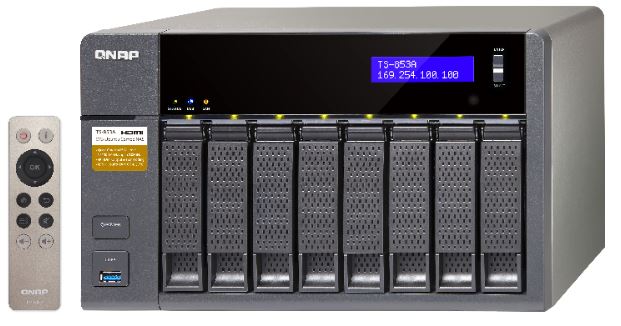 In response to the coming era of Internet of Things (IoT), the TS-853A innovatively supports the open-source Linux® platform as a gateway for IoT solutions to other smart devices. The TS-853A allows users to directly utilize various feature-rich Linux apps, enjoying a private cloud combining storage and IoT applications, and professional developers can develop and run IoT applications directly on the TS-853A. The secure, reliable TS-853A is packed with business-critical features such as Volume/LUN Snapshot – allowing files/folders to revert to a previous state in case of any corruption or file-loss. The TS-853A is powered by the latest quad-core Intel® Celeron® processor which allows users to enjoy 4K (H.264) video playback and 1080p/4K video real-time transcoding directly from the TS-853A to an HD/4K display.
• Supports the Linux® OS with direct output via HDMI
• Dual HDMI output for switching between duplicated and extended desktop options
• AES-NI hardware-accelerated encryption for efficient cryptographic performance up to 420 MB/s
• Supports 4K hardware decoding and transcodes 4K H.264 videos on-the-fly or offline
• Quickly find files using a real-time, natural search with Qsirch 2.1
• NAS and iSCSI-SAN unified storage solution for virtualization
• Supports VMware®, Citrix®, Microsoft® Hyper-V and advanced virtualization features
• A hybrid approach to virtualization in one NAS: Virtualization Station & Container Station
• Build a personal karaoke system with high-quality audio output with the new OceanKTV app

The TS-853A's QTS-Linux dual systems are based upon QNAP's advanced virtualization technologies. The revolutionary architecture of the TS-853A enables users not only to download rich apps from QTS App Center but also to develop or utilize IoT packages for Linux® and display them using HDMI output. With the TS-853A, you can develop and install various IoT packages on demand and centrally store the data on the TS-853A, benefiting from a secure private storage and development solution. Simply plug in a keyboard, mouse and HDMI monitor to the TS-853A, and use the Linux Station as if you were using a PC*. You can also operate the Linux Station as a remote desktop via web browser for instant management.

Powered by the latest 14 nm Intel® Celeron® N3150 quad-core 1.6GHz processor, dual-channel 4/8GB DDR3L-1600 RAM (upgradable to 8GB), 4 Gigabit LAN ports and SATA 6Gb/s, the TS-853A delivers up to 410 MB/s read speed and runs tasks smoothly and quickly. The TS-853A can automatically increase the processor's clock speed from 1.6GHz to 2.08GHz when performing CPU-intensive tasks. The TS-853A features Intel® AES-NI hardware-accelerated encryption engine to drive transfer speeds of up to 420 MB/s with AES 256-bit encryption for both full NAS volume and shared folders, boosting system performance & security while ensuring the safety of sensitive business data stored in the TS-853A.
The TS-853A comes with dual HDMI outputs for using two monitors in either a "duplicated" or "extended" desktop configuration. Duplicating will display the same content on both displays, and extended desktop mode allows users to display applications over two displays for improved multitasking convenience and productivity.
When displaying content using HDMI outputs, you can use the TS-853A as an amazing multimedia player by using HD Station to enjoy rich apps including Kodi™, HD Player, Plex Home Theater, YouTube™, Spotify®, JRiver, Google Chrome™, Mozilla Firefox®, and more. Alternatively, you can choose to output the Linux® operating system desktop to use the TS-853A as a PC.
Datasheet