TS-853U-RP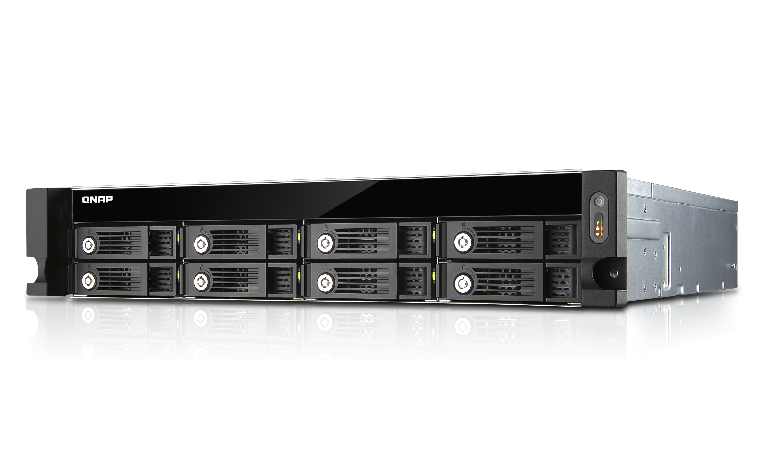 The TS-853U-RP, featuring the easy-to-use QTS operating system, is a powerful, reliable, secure and scalable NAS solution designed for mission-intensive business applications and to meet fast growing data storage needs. The TS-853U-RP supports SATA 6Gb/s drives and delivers high performance with persistent throughput, providing a comprehensive storage solution for SMBs to build a reliable private cloud.
Powered by a cutting-edge 22nm quad-core Intel® Celeron® 2.0GHz processor with 4GB energy-efficient DDR3L RAM (upgradable to 8GB), coupled with the support of SATA 6Gb/s, 4 Gigabit LAN ports and HDMI output, the TS-853U-RP is a powerful NAS that delivers up to 430 MB/s throughput. The TS-853U-RP can also automatically increase the processor's clock rate from 2.0GHz to 2.41GHz when needed for CPU-intensive tasks. The TS-853U-RP's fast encryption and decryption performance provides transfer speeds of up to 273 MB/s with AES 256-bit volume encryption, boosting system performance & security while ensuring the safety of sensitive business data stored in the TS-853U-RP.
• Hot-swappable redundant power supplies to ensure maximum system uptime
• Manage, share, and back up business data with Real-time Remote Replication (RTRR)
• Expand the total raw storage capacity up to 160 TB with the economical UX-1200U-RP QNAP expansion enclosure
• NAS and iSCSI-SAN(IP-SAN) unified storage solution for server virtualization
• Supports VMware®, Citrix®, and Microsoft® Hyper-V and advanced virtualization features
• Enhanced data security with high-performance AES 256-bit encryption and anti-virus
• Use the TS-853U-RP as a PC with exclusive QvPC Technology
• Run multiple Windows/Linux/Android-based virtual machines with the Virtualization Station
• Transcode Full HD videos on-the-fly or offline with QNAP's unique transcoding technology
Awards


The business-ready TS-853U-RP is designed to provide 24/7 operations and services. The support for comprehensive RAID configurations and hot-swapping allow for replacing hard drives without service interruption. QNAP's advanced RAID recovery technology also helps if any healthy drives are removed from a degraded RAID volume by mistake. The system can be recovered by reinserting the wrongly removed hard drives so the data can still be accessible. The TS-853U-RP delivers high reliability and efficiency with 4 LAN support for multiple port-trunking modes including fail-over support. The TS-853U-RP also features a hot-swappable redundant power supply to ensure maximum system uptime.
The TS-853U-RP supports SMB/CIFS, NFS, and AFP protocols for file sharing across Windows, Mac, Linux/UNIX networks. Data, logs and ISO images of CDs and DVDs can be centrally stored on the TS-853U-RP and protected by an integrated antivirus solution. The Windows AD and LDAP services enable system administrators to configure user permissions by using an existing Windows AD server, LDAP server or built-in LDAP service. The TS-853U-RP supports SAMBA v4 and can act as a Windows domain controller to manage privilege settings.
Product Sheet