TS-863U-RP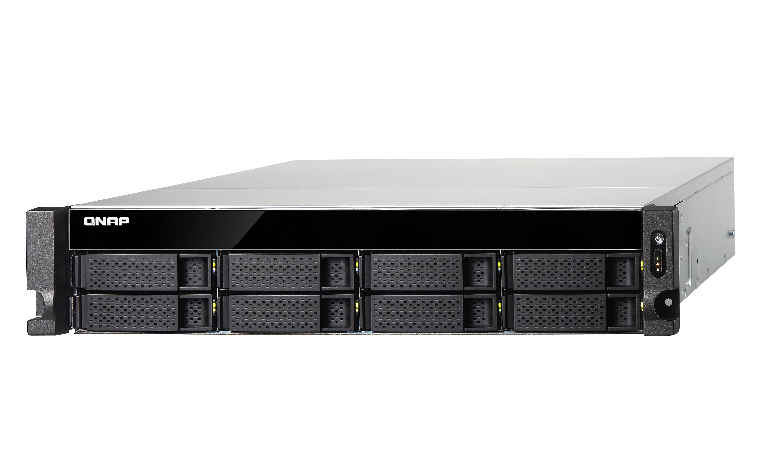 The TS-863U-RP is a powerful network storage system powered by a high-performance AMD quad-core processor. It uniquely provides 10GbE at a budget price to maximize ROI, and doubles the encrypted file transfer performance with the AES-NI hardware-accelerated encryption engine to over 800 MB/s. Powered by the QTS operating system, the TS-863U-RP provides versatile all-in-one server functionalities as well as unique features including Virtualization Station, which allows users to run VMs on the same device. The TS-863U-RP is designed for small and medium-sized businesses looking for backup, restoration, private cloud, storage for virtualization, and to future-proof their IT infrastructure for 10GbE networks.
• 10GbE-ready, highly-efficient storage solution for HD video editing and sharing
• Hot-swappable redundant power supplies to ensure maximum system uptime
• Hardware-accelerated encryption engine for efficient cryptographic performance exceeding 800 MB/s
• Run multiple Windows®/Linux®/UNIX®/Android™ based virtual machines with the Virtualization Station
• Manage, share, and back up business data with Real-time Remote Replication (RTRR)
• NAS and iSCSI-SAN (IP-SAN) unified storage solution for server virtualization
• Supports VMware®, Citrix®, and Microsoft® Hyper-V™ and advanced virtualization features
• Scale up to 20 drives with a QNAP UX-1200U-RP expansion enclosure
The TS-863U-RP is equipped with an energy-efficient 64-bit AMD quad-core 2.0GHz processor with 4GB DDR3L-1600 RAM (upgradable to 16GB), SATA 6Gb/s, one SFP+ 10GbE and four Gigabit LAN ports for lightning-fast multi-tasking performance with SSD cache support. The TS-863U-RP is a powerful NAS that delivers up to 1,090 MB/s sequential read throughput with one 10GbE configuration. The TS-863U-RP's hardware-accelerated encryption engine provides unmatched encryption performance in its class, up to 813 MB/s with AES-256 bit full NAS volume encryption, boosting system performance & security while ensuring the safety of sensitive business data stored in the TS-863U-RP.
The TS-863U-RP supports 10 Gigabit high-speed networks with an included single-port SFP+ 10GbE network adapter in addition to the default 2 Gigabit Ethernet ports. The SFP+ 10GbE network adaptor can be replaced with a 10GBASE-T or a 2-port 10GbE adapter for the maximum flexibility. The 10GbE-ready TS-863U-RP delivers lightning-fast data throughput for businesses that demand higher bandwidth for virtualization and fast backup and restoration for an ever-growing amount of data. Coupled with its large storage capacity potential, the TS-863U-RP is perfect for companies to store massive data and excel in fast data transmission.
With Qswitch* the TS-863U-RP supports bridging 1 Gigabit and 10 Gigabit networks naturally like a network switch. You can connect 1GbE devices to the TS-863U-RP to attain the 10GbE working environment for data transmission without buying an expensive 1/10Gbps Ethernet switch. The TS-863U-RP assists in saving money on 10GbE network deployment and maximizes your flexibility and bandwidth.
Furthermore, you can setup a closed network with the built-in DHCP server and IP cameras for surveillance. The surveillance footage is private only to the internal network access for added security.