TS-877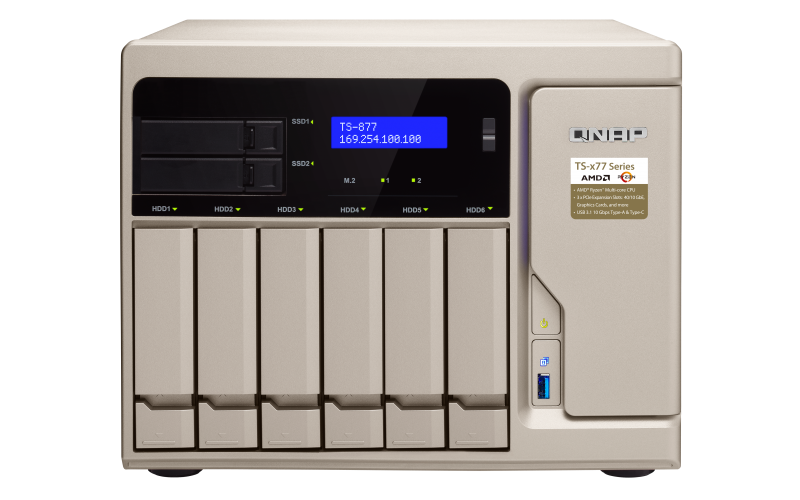 The TS-877 powered by AMD's new 14nm Ryzen™ processor redefines the high-end desktop business NAS for greater video and virtual machine performance with up to 8 cores/16 threads native processing and Turbo Core up to 3.7 GHz. Cutting-edge hardware integrated with multitasking software makes the TS-877 the preeminent choice to tackle resource-demanding applications and tasks.
Absolute performance with AMD Ryzen™ and up to 64GB RAM
Powered by a high-performance AMD Ryzen™ 7 1700 or AMD Ryzen™ 5 1600 processor with AES-NI encryption acceleration and up to 64GB DDR4 RAM, the TS-877 delivers aggressive yet power-smart performance to meet your multitasking demands and is capable of running up to 7 virtual machines simultaneously*. For resource-demanding business applications such as VDI, R&D, private cloud, and server virtualization, the TS-877 with gold-standard performance is your ideal choice.
Top-class hardware engineering
The feature-packed hardware of the TS-877 bolsters overall system performance. Coupled with the flexible and expandable architecture, the TS-877 fulfills diversified application needs.
Extend NAS functionality with PCIe slots
The TS-877 features three PCIe slots (1 x PCIe 3.0 x8, 1 x PCIe 3.0 x4, 1 x PCIe 2.0 x4) that allow for installing 10GbE/40GbE network cards, QM2 M.2 SSD/10GbE PCIe cards, or compatible wireless network cards for greater application potential.