TVS-873
The TVS-873 is powered by an AMD embedded Accelerated Processing Unit (APU) that incorporates exceptional CPU and AMD Radeon™ R7 Graphics performance, delivering a high-performance and energy-efficient NAS solution. Built with a state-of-the-art metal design and topped off with a stylish gold finish, the TVS-873 features a powerful quad-core CPU, AES-NI hardware encryption engine, up to 64GB RAM, USB 3.1 (10Gbps) and 10GbE expandability with exceptional performance. Coupled with the unique USB QuickAccess, HDMI 4K output, and 4K H.264 video decoding and encoding acceleration, the TVS-873 running on the new 64-bit QTS 4.3 operating system provides an optimum audiovisual experience and well-rounded private cloud system.

• NAS and iSCSI-SAN (IP-SAN) unified storage solution
• Integrated Radeon™ R7 GPU for 4K video storage and playback
• 10GbE-expandable, highly-efficient storage solution for virtualization and HD video editing & sharing
• USB QuickAccess port for accessing files without needing a network connection
• M.2 SSD cache and Qtier technology jointly realize optimized storage efficiency
• Supports virtualization, centralized storage, backup, sharing, and disaster recovery

The TVS-873 is equipped with a next-gen AMD R-Series RX-421BD quad-core 2.1 GHz APU (burst up to 3.4 GHz), dual channel 8GB/16GB/64GB DDR4 RAM (upgradable to 64GB), and four Gigabit LAN ports for lightning-fast multi-tasking with low power consumption and is capable of delivering up to 1,055 MB/s throughout with a 10GbE configuration. The TVS-873's hardware-accelerated encryption engine with AES-NI provides unmatched encryption performance in its class (up to 479 MB/s with AES 256- bit full NAS volume encryption) to boost system performance, security, and ensuring the safety of sensitive business data stored in the NAS.
USB 3.1 provides faster maximum speeds of 10Gb/s – double that of USB 3.0 – to greatly boost data transfer performance. The TVS-873 comes with a USB 3.1 Type-A dual-port card for connecting up to two USB devices, allowing compatibility with newer, faster USB devices for transferring large-sized media files.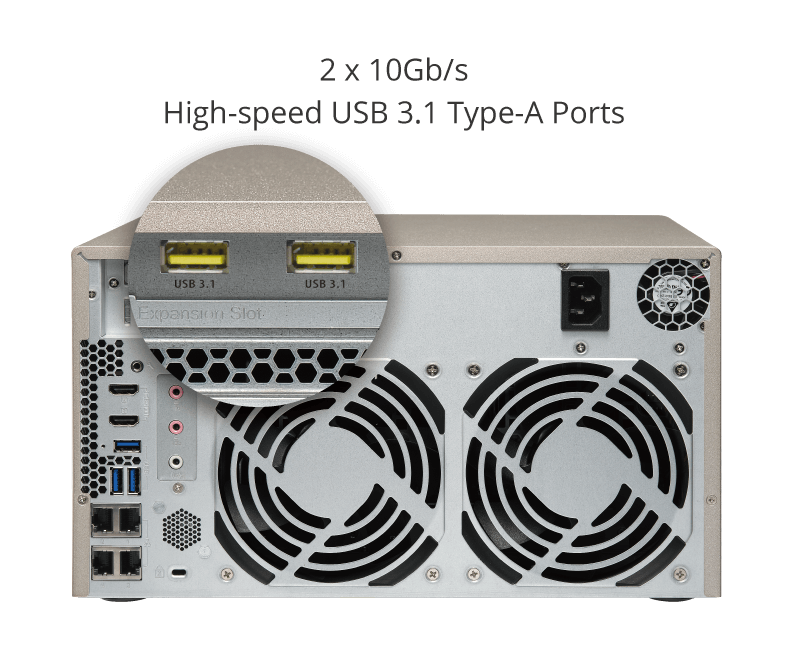 The TVS-873 natively supports the new 64-bit QTS 4.3 operating system. QTS 4.3 provides more intelligent features to enhance management efficiency, including the intelligent Qtier™ 2.0 that learns from NAS usage, analyzes system performance and peak usage hours to process auto tiering; Qfiling that helps categorize files and performs based on schedules to make organizing files automatic and efficient, and much more. With its intuitive and simplified user interface, QTS features an intelligent desktop allows you to find desired functions quickly, create desktop shortcuts or group shortcuts, monitor important system information on a real-time basis, and open multiple application windows to run multiple tasks concurrently, bringing greater working efficiency. QTS breaks the barriers of devices, platforms, and geography to bring optimized cloud experiences and incorporates advanced features.