QNAP Systems, Inc. – Network Attached Storage (NAS)
How to mitigate the threat of ransomware?
Back up with QNAP NAS to save your files
While the first line of defense against being affected by malicious software is being careful and practicing sensible usage habits (regularly updating your software, not opening untrustworthy emails, not visiting unknown websites, etc), you should always remember to back up your data.
QNAP NAS provides a simple solution for backing up/restoring files and data. Its Linux-based QTS operating system makes it more secure than Windows® systems that are more at risk from being attacked. Moreover, the native support for point-in-time snapshots that are operated separately from the file system makes QNAP NAS a reliable backup solution for reacting quickly for backing up and restoring important files and system data.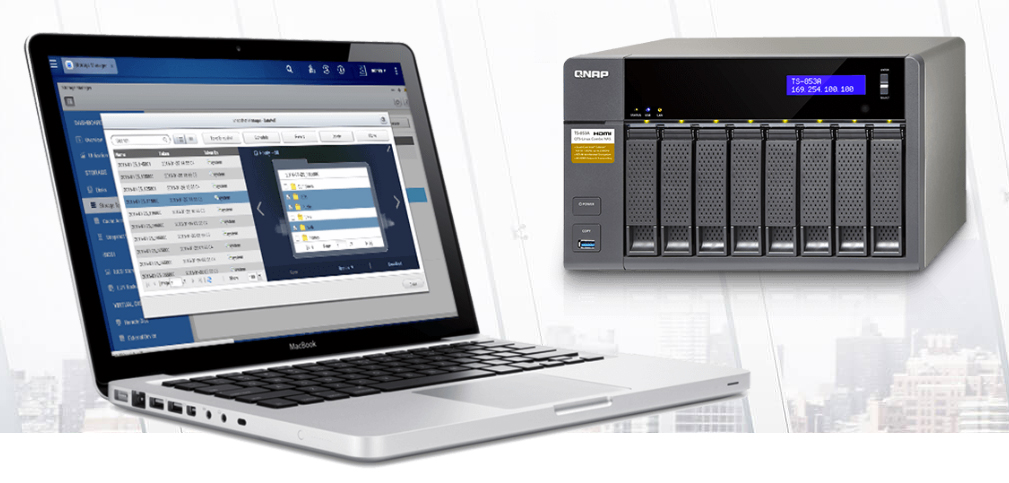 Snapshots: React quickly for backing up and restoring
Snapshots record the metadata of files outside the file system and allow users to preserve and restore multiple versions of the same file, folder or even the entire volume. If ransomware attacks or an unexpected situation arises on your system, you can quickly and easily revert back to the previous state that the snapshot has recorded.
Block-based snapshots

QNAP's block-based snapshot supports incremental backups to save storage space. While copying only the changes made, it also saves time for backing up and restoring.

Restore in a click

Data recovery through snapshots only takes a few minutes. As they are separated from the file system, snapshots allow users to restore the original, unencrypted files even if the volume is affected by ransomware.

Snapshot Replica

After creating snapshots, you can efficiently copy them to another QNAP NAS for double protection.

Snapshot Reserve Space

Ransomware's continual writing of data may cause snapshot protection to fail due to running out of space. QNAP's unique "Snapshot Reserve Space" helps prevent this by reserving dedicated space for snapshots.
Steps to restore your files with snapshots
QNAP Lab simulated a ransomware attack, and confirms that the following steps are suitable for recovering data with QNAP snapshots.
1/

Use QNAP NetBak Replicator (or another backup tool) to regularly back up files to the NAS with user accounts that only have limited access rights (highly recommended), and then configure the snapshot function with the administrator's account.

2/

Set up "Snapshot Reserve Space" to reserve an amount of space for snapshots and ensure that a specific number of snapshots will always be retained.

3/

If you notice ransomware activity or are presented with a ransom message, immediately disconnect your computer from the Internet, and remove the connection between the infected computer and NAS. If possible, disconnect the network cable from the NAS too to prevent the virus from spreading.

4/

If you have a NAS with HDMI output you can connect a mouse, keyboard and HDMI monitor to the NAS, and access the NAS using HD Station. If your NAS lacks HDMI output, then when connecting to the NAS please ensure that your computer does not mount any infected shared folders until the snapshot is restored.

5/

Click "Storage Manager", and check the "Snapshot Manager" to see a list of snapshots.

6/

Select a snapshot taken before the ransomware attack, delete all files in the infected folder, then restore those files with the snapshot. Your files should now be recovered and unencrypted.
Product Categories:
About QNAP:
QNAP Systems, Inc., as its brand promise "Quality Network Appliance Provider", aims to deliver comprehensive offerings of cutting edge network attached storage (NAS) and network video recorder (NVR) solutions featured with ease-of-use, robust operation, large storage capacity, and trustworthy reliability. QNAP integrates technologies and designs to bring forth quality products that effectively improve business efficiency on file sharing, virtualization applications, storage management and surveillance in the business environments, as well as enrich entertainment life for home users with the offering of a fun multimedia center experience. Headquartered in Taipei, QNAP delivers its solutions to the global market with nonstop innovation and passion.