REXP-1220U-RP
The REXP-1220U-RP expansion enclosure is designed for expanding the storage space on a QNAP NAS* by connecting multiple expansion enclosures via high-speed mini SAS cables. Featuring a 12 Gbps SAS interface on the chassis, the REXP-1220U-RP ensures fast data passthrough from 12 Gbps SAS-enabled QNAP NAS even when using 6Gbps hard drives. This is especially useful for large data applications that require high performance interconnection, such as video surveillance, archiving large data, and TV broadcast storage.
• Plug and use, seamless capacity expansion
• Missing mode protection
• High density, high efficiency and high scalability
• Flexible management with the QTS Storage Manager
• Backup storage for the QNAP NAS
• Supports SAS 12 Gbps, SAS/SATA 6 Gbps HDD and SSD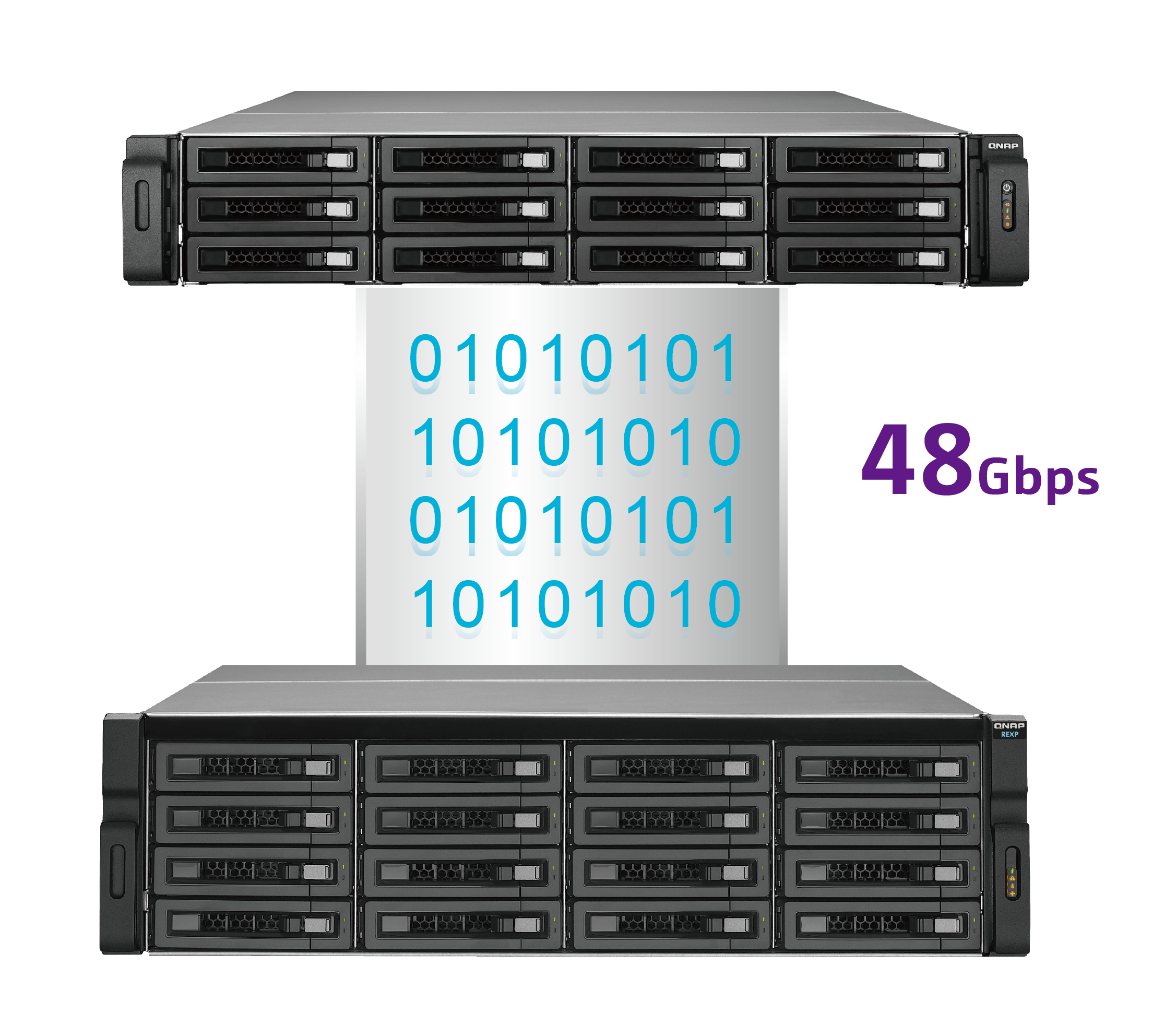 The REXP-1220U-RP supports 12 hard drives and 96TB raw capacity in 2U rack space. The REXP-1220U-RP has two SAS wide ports (IN port and OUT port) for host connectivity and daisy-chaining respectively. Each SAS wide port combines four SAS channels (maximum 8 SAS channels supported per expansion enclosure), with each supporting 12Gbps full duplex speed. The solution delivers unprecedented performance of up to 48Gbps per host connection.
In addition to expanding an existing volume, IT administrators can use the REXP-1220U-RP as a budget-friendly external storage to perform speedy and secure backup tasks for a QNAP NAS. The QNAP RTRR (Real-Time Remote Replication) or rsync service lets IT administrators back up NAS data to the REXP-1220U-RP on a real time or scheduled basis.
The REXP-1220U-RP offers high flexibility in hard drive selection. IT administrators can choose enterprise-level SAS HDDs with high performance and high reliability for mission-critical applications, low-cost but high-capacity SATA HDDs for large data archiving, or high-speed and high-stability SSDs for I/O-intensive operations.
Datasheet