TVS-1282T3 (Thunderbolt 3)
TVS-1282T3 (Thunderbolt 3)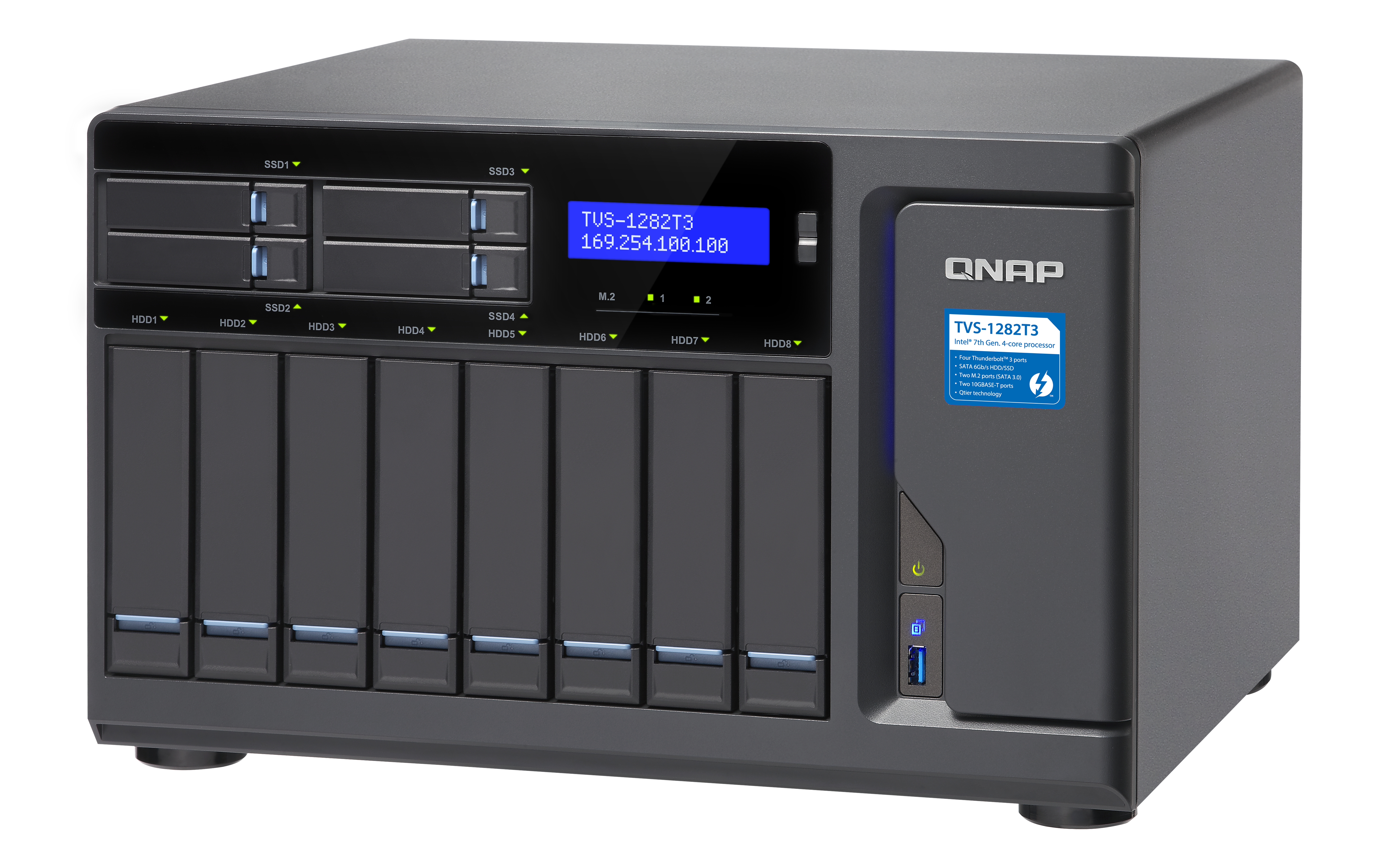 Exclusively providing a Thunderbolt™/NAS/iSCSI SAN triple solution, the TVS-1282T3 features four Thunderbolt™ 3 ports to enable seamless collaboration between up to four Mac® and Windows® devices. Coupled with its higher bandwidth to smooth 4K video transfer and online editing, the TVS-1282T3 is a perfect match for Thunderbolt-equipped Mac® and Windows® users for 4K workflows, file storage and high-speed sharing. The TVS-1282T3 leverages 7th Generation Intel® 14nm multi-core processors and was designed around the concept of tiered storage, application-based partitioning and network traffic distribution, providing exceptional performance to fulfill critical tasks.
• Built-in M.2 SATA 6Gb/s slots & 2.5" SSD slots
• Qtier technology and SSD cache enable 24/7 optimized storage efficiency
• The Network & Virtual Switch app assists network traffic distribution, and re-routes dedicated bandwidth for diverse applications
• Four Thunderbolt™ 3 (40 Gbps) ports and dual 10GbE network for on-the-fly video editing and rapid file sharing
• Four available combinations with Mac/PC and JBOD for flexible attaching, sharing and expansion
• Flexible storage expansion with QNAP storage expansion enclosures and Virtual JBOD (VJBOD)
• Supports QRM+ unified remote server management, Q'center for centrally managing multiple QNAP NAS, virtual machine and container applications, and storage for virtualization
Featuring high-performance 7th Generation Intel® processors, the TVS-1282T3 provides three options powered an Intel® Core™ i5 quad-core processor with 16GB DDR4 RAM and Intel® Core™ i7 quad-core processor with 32GB/64GB DDR4 RAM, driving outstanding system performance for CPU-demanding applications. The TVS-1282T3 Thunderbolt™ 3 NAS not only features Thunderbolt™ 3 technology for faster data transfer but also has dual 10GbE ports giving you incredible flexibility for network connectivity. The Thunderbolt™ 3 ports on the TVS-1282T3 are also compatible with USB Type-C cables/devices and supports 10 Gbps USB 3.1 Gen2, allowing compatibility with newer, faster USB devices for transferring large-sized media files.
High-performance hardware, well-designed application functionalities and thoroughly-planned usage scenarios alongside flexible expansion interface are distinctive cornerstones for realizing optimum performance and diverse applications.


TVS-1282T3