TVS-882BRT3 (Thunderbolt 3)
TVS-882BRT3 (Thunderbolt 3)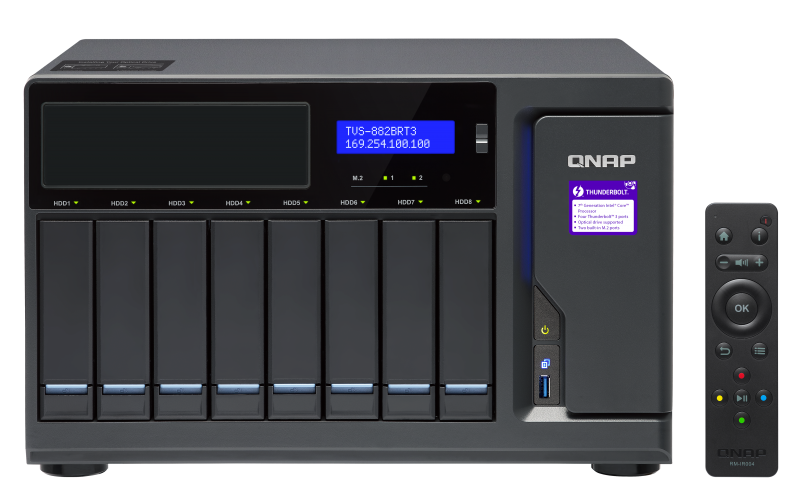 The TVS-882BRT3 uses 7th Generation Intel® 14nm multi-core processors and features Thunderbolt™ 3 (40 Gbps) connectivity, including a unique Thunderbolt-to-Ethernet (T2E) 10 GbE converter, and is ideal for online video editing and high-speed file sharing. The TVS-882BRT3 comes with an optical disc drive (ODD) slot, allowing you to install compatible disc drives (including Blu-ray Disc drives). QNAP also provides models with a preinstalled Blu-ray Disc drive, allowing you to experience extensive disc applications right way. You can back up the content of your discs to NAS for long-term storage and easier sharing, or you can write NAS-based files to disc for an extra layer of data protection. The TVS-882BRT3 comes with three PCIe Gen.3 slots. Two slots are preinstalled with dual-port Thunderbolt 3 expansion card, while the third slot allows for adding 10GbE/40GbE NIC, SAS storage expansion card, or a USB 3.1 10GbE adapter, making the TVS-882BRT3 ideal for diverse storage applications.
• Four Thunderbolt™ 3 (40 Gbps) and dual 10GbE network ports for on-the-fly video editing and rapid file sharing
• 5.25-inch SATA ODD for installing an optical disc drive or two slim disc drives; TVS-882BRT3 also supports USB disc drives
• Two M.2 SATA 6Gb/s slots and Qtier auto-tiering for optimized storage efficiency
• Transcodes 4K H.264 videos on-the-fly or offline *
• Triple HDMI output enables direct disc playing through Linux Station
• Qfiling enables automatic file organization; Qsirch full-text search helps locate files faster
• Supports QRM+ unified remote server management, QvPC technology, virtual machine and container applications, and storage for virtualization
• The Network & Virtual Switch app assists network traffic distribution, and re-routes dedicated bandwidth for diverse applications
• Virtual JBOD (VJBOD) allows using the free space of a QNAP NAS to expand the capacity of other QNAP NAS
Blu-ray NAS covers complete backup scenarios
TVS-882BRT3 supports Blu-ray disc drives, enabling direct backup of your discs to NAS. Not only does it solve the difficulty of backing up countless discs but also helps make file management much easier. Coupled with Qfiling's automatic file organization and Qsirch's full-text search engine, the TVS-882BRT3 brings a whole new experience for you to easily manage all your disc files on a private cloud. Files stored on the NAS can also be written to disc for additional backup protection.
Easy installation, quick backup and sharing
The TVS-882BRT3 comes with a SATA optical disc drive (ODD) expansion slot allowing you to install a 5.25″ disc burner or two Slim SATA disc burners. The TVS-882BRT3 also supports USB disc drives. QNAP provides models with preloaded Blu-ray ODD for you to enjoy disc-related applications instantly. After installing the ODD, you can browse disc files directly through File Station and quickly backup the files to NAS, saving you time and trouble from transferring files to computer first then to the NAS. Multiple sharing modes (email, social network, sharing link, share to other NAS users) allows you to easily share information to others, solving the inconvenience of sharing disc files before.


Datasheet:
TVS-882BRT3