TVS-882ST2 (Thunderbolt 2)
TVS-882ST2 (Thunderbolt 2)
TVS-882ST2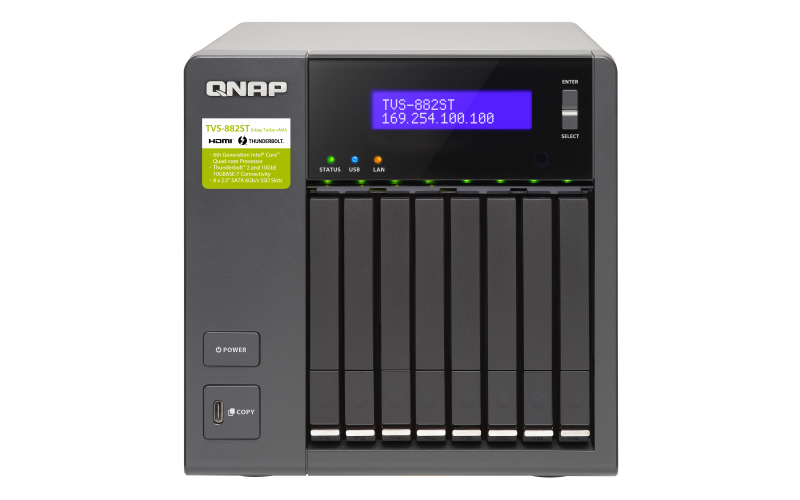 The TVS-882ST2 is powered by an Intel® 6th Generation Core™ i5 Quad-core processor with AES-NI hardware encryption and provides a Thunderbolt™ 2/NAS/iSCSI SAN triple solution. With Thunderbolt™ 2, 10GbE, USB 3.1 Type-C + Type-A 10Gbps, and 4K output it provides the performance and connectivity to empower small offices and studios to take their business to the next level. The software-based Thunderbolt-to-Ethernet (T2E) function also allows Thunderbolt-enabled computers to access Ethernet networks by connecting them to the TVS-882ST2.
• Eight 2.5" SATA 6Gb/s SSD/HDD slots
• High-speed Thunderbolt™ 2 (20Gbps) and 10GbE dual networks
• High flexibility with USB 3.1Gen 2 10Gbps Type-A & Type-C ports
• The Network & Virtual Switch app assists network traffic distribution, and re-routes dedicated bandwidth for diverse applications
• 4 available combinations with Mac/PC and JBOD for flexible attaching, sharing and expansion
• Transcodes 4K H.264 videos on-the-fly or offline
• HDMI with 4K 30Hz output
• Supports QvPC Technology and features integrated virtualization and container solutions
• Virtual JBOD (VJBOD) allows to use QNAP NAS to expand the TVS-882ST2's storage capacity
• Scalable up to 56 SSDs/HDDs with the Thunderbolt™ 2 storage expansion enclosures TX-800P/ TX-500P
Flagship Thunderbolt™ 2 NAS with Intel® Core™ i5 Quad-core processor
Powered by an energy-efficient Intel® 6th Generation 14nm Core™ i5 quad-core processor, dual channel 8GB DDR4 RAM (upgradable up to 32GB) and two Thunderbolt™ ports, the TVS-882ST2 Thunderbolt™ 2 NAS is a perfect match for creative industries working with 4K workflows. Featuring eight 2.5″ drive bays and supporting SATA 6b/s drives, the TVS-882ST2 is compact and ideal for using an all-SSD configuration for the utmost performance. USB 3.1 10Gbps connectivity also provides greater flexibility for everyday use. The Apple® Thunderbolt 3 (USB-C) to Thunderbolt 2 adapters (sold separately) can also be used with the TVS-882ST2 to provide additional connectivity options with Mac® devices.
World's first NAS with USB 3.1 10Gbps Type-C & Type-A
USB 3.1 provides speeds up to 10Gb/s – double that of USB 3.0 – to greatly boost data transfer performance. The TVS-882ST2 comes with a USB 3.1 10Gbps Type-C and a Type-A port, providing greater flexibility and ensuring future-proof compatibility with new and upcoming USB devices.
Access Ethernet networks over Thunderbolt with Thunderbolt-to-Ethernet (T2E)
Thunderbolt-to-Ethernet (T2E) allows computers without Ethernet ports (such as MacBook Pro) to access Ethernet network resources over a Thunderbolt connection to the TVS-882ST2. This saves users from having to buy adapters or converters and greatly streamlines the connectivity process.


Datasheet:
TVS-882ST2