Enterprise Capacity 3.5 HDD
Enterprise Capacity 3.5 HDD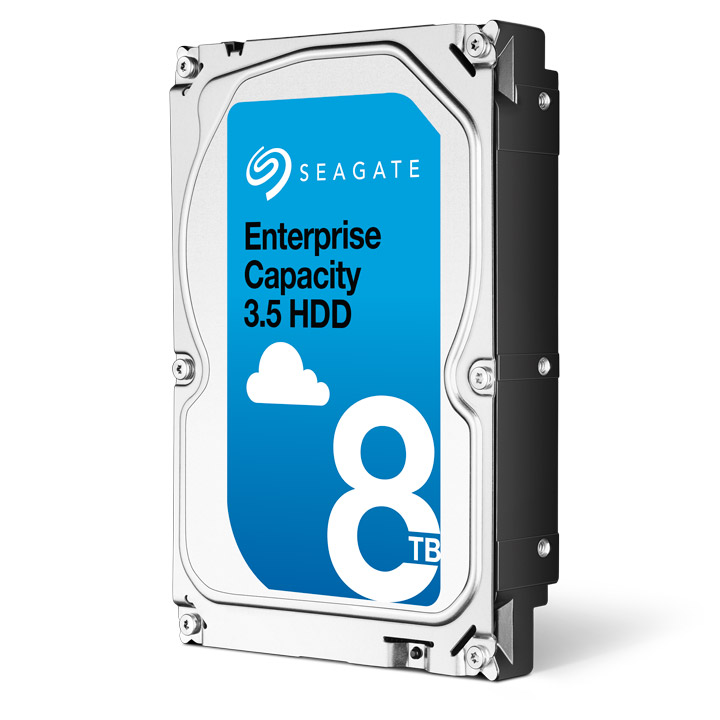 When building maximum density server and storage solutions with Seagate's 8 TB Enterprise Capacity 3.5 HDD, you can rest easy knowing that your storage infrastructure can scale to meet your growing capacity needs while offering your users a consistent and predictable response rate. The Enterprise Capacity 3.5 HDD is built to support enterprise-class nearline workloads of up 550 TB per year, which is up to 10× the rated workload of desktop HDDs.

• Quickly access and store data with blazingly fast random performance – over 100% faster than last generation HDD
• Enjoy peace of mind with field-proven ninth-generation technology for reliable access to unstructured data – in the same 3.5-inch footprint!
• Have confidence with a drive that ensures 24×7 consistent performance – every transaction, every day
• Efficiently delivers easy integration into replicated and RAID bulk storage systems with 12 Gb/s SAS and SATA 6 Gb/s interface options
Maximum Capacity and Built for Speed
Supporting the industry's best response times for an 8 TB nearline drive, Seagate's Enterprise Capacity 3.5 HDD enables the fastest data transfers thanks to our comprehensive advanced caching technology.
Meet your storage workload requirements in the most efficient and cost-effective data centre footprint available on the market today. With user-definable innovative technology advancements like PowerBalance™, PowerChoice™ and RAID Rebuild™, you have the control to tailor your bulk storage requirements for even greater improvements in lowering your total cost of ownership
What's In the Hard Drive?
• Super fast 8 TB nearline hard drives utilising Seagate's latest advanced caching technology
• At 550 TB/Year, it's 10× the workload rating of desktop drives
• Proven conventional PMR technology backed by highest field reliability ratings and an MTBF of 2M hours
• 12 Gb/s SAS and SATA 6 Gb/s interfaces for easy integration
• Excellent IOPS/TB storage for unstructured data
• 33% increase in areal density (over last generation 6 TB HDD)
• PowerBalance™ user-definable feature for those requiring lower power consumption with balanced performance
*Seagate Instant Secure Erase feature on SED drives for secure, easy and cost-effective drive disposal
Data Sheet
Seagate Instant Secure Erase
Seagate 8TB Enterprise HDD