FS3017


Enterprises are now challenged to handle I/O-intensive and latency sensitive applications, whether it's managing large raw files, virtual machines or databases, FS3017 is an easy to maintain, affordable, yet powerful all-flash NAS solution for businesses.
FS3017 accepts both high-end SAS SSD and the more mainstream SATA SSD. Raw capacity of FS3017 reaches up to 90TB.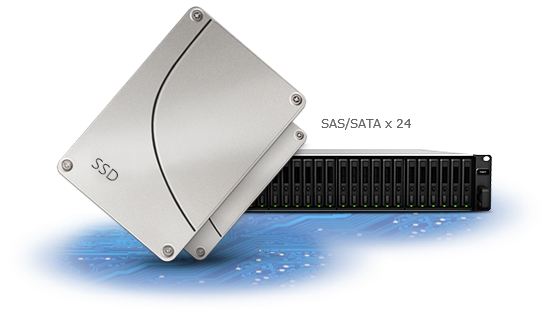 FS3017 is equipped with two 10GBase-T ports. If you need more horsepower, FS3017 also has two PCIe slots available for adding more Ethernet controllers. Choose between 10GbE, 25GbE, and 40GbE to unlock FS3017's full potential. In addition, you can leverage iSCSI over RDMA technology to enhance iSCSI performance by up to 80% with an optional purchase of supported NIC on FS3017.
The built-in Snapshot Replication application reproduces 65,000 backup copies to offsite servers, bringing near-instantaneous data protection and ensuring data in shared folders or virtual machines in iSCSI LUNs remain available in the event of disaster.
Uninterrupted availability is a critical goal for all businesses. FS3017 offers Synology High Availability (SHA) technology which combines an active and passive server into one cluster, the former always mirrored to the latter. Shared Folder Sync can replicate data in real-time to another Synology NAS at a remote location, giving your business the Recovery Time Objective (RTO) for prompt disaster recovery. With multiple LAN ports, FS3017 also ensures redundancy in the event of unexpected network failure.
Datasheet