DS416slim
Small size, huge possibilities.
DS416slim is a 4-bay NAS server for 2.5″ drives, aimed at home users and professionals in need of a compact, power-saving, easily transportable storage solution. Accommodating up to four disks, it provides all essential services to increase productivity at work or serve as a comprehensive media center solution.
DS416slim boasts a dual-core CPU with a dedicated encryption engine and 512MB of DDR3 RAM. With link aggregation enabled, DS416slim delivers up to 194.21 MB/s in reading and 77.91 MB/s in writing. Reading through a single Gigabit LAN speed goes up to 112.14 MB/s.
Equipped with dual LAN ports, DS416slim ensures continual network service in case one LAN connection fails, decreasing the risk of network downtime. Link Aggregation takes advantage of the dual LAN ports to enhance connection speeds beyond the limits of a single cable or port.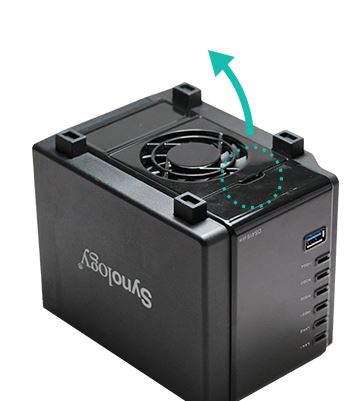 With the detachable fan module, DS416slim makes fan replacement or cleaning easier than ever. At the same time, the snap-in drive tray design allows for fast and neat disk installation. This makes it easy to keep DS416slim clean and running perfectly all the time.
DS416slim weighs less than 700 grams and can be be easily transported to serve as a local file and backup servers during off-site assignments. Despite its incredibly compact form factor, it can host up to 8TB of raw data and features two USB 3.0 ports for fast backup from external drives .
Datasheet