DS3018xs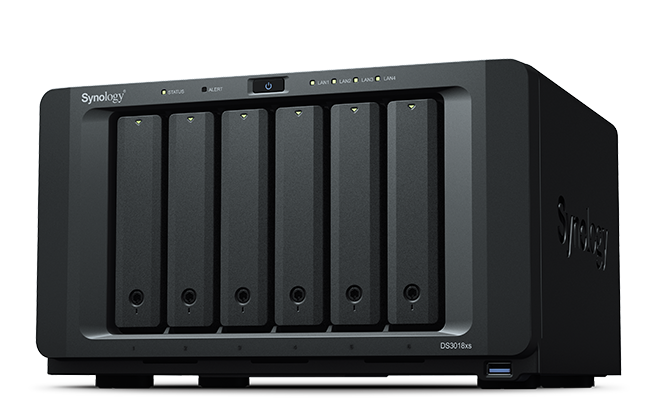 High-performance NAS server with scaling flexibility
Powered by a dual-core processor with AES-NI hardware encryption engine, Synology DiskStation DS3018xs is a brand new 6-bay NAS that comes with a PCIe slot and can be installed with a 10GbE network interface card or a dual M.2 SSD adapter card. SSD cache support enhances network speeds and boosts performance, allowing DS3018xs to meet data-intensive requirements.
Supercharge your storage with speedy performance
Equipped with dual-channel memory and a PCIe slot, DS3018xs supports installing the dual M.2 SSD adapter card, M2D17, or the 10GbE NIC, for high-IOPS system cache and ultra-fast data transmission respectively.
Next-generation file system for better data protection
The Btrfs file system introduces advanced storage technologies and optimized snapshots to prevent data corruption and reduce maintenance overhead. While ensuring high-level data integrity, it also offers flexible, efficient data protection and recovery tools.
Fully certified storage virtualization solutions
Synology iSCSI storage fully supports most virtualization solutions to enhance work efficiency with easy management interface. VMware vSphere 6 and VAAI integration helps offload storage operations and optimizes computation efficiency. Windows Offloaded Data Transfer (ODX) speeds up data transfer and migration rate. OpenStack Cinder support turns your Synology NAS into a block-based storage component.
Digital asset protection
Powered by Synology DiskStation Manager (DSM), Synology NAS offers advanced security measures to protect against sudden data loss and potential security holes.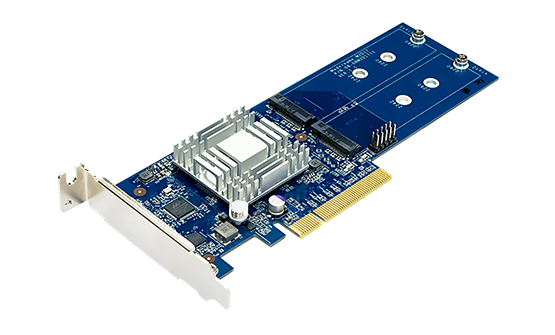 Boost Your Storage Performance
Synology M.2 SSD adapter — M2D17 — is designed to supercharge your NAS I/O performance. Its dual M.2 SSD slots allow high SSD read/write caching, reserving primary drive bays for data storage. It supports 2280/2260/2242 form factors and meets various M.2 SATA SSD options to free you from vendor lock-in.
Datasheet