DS1815+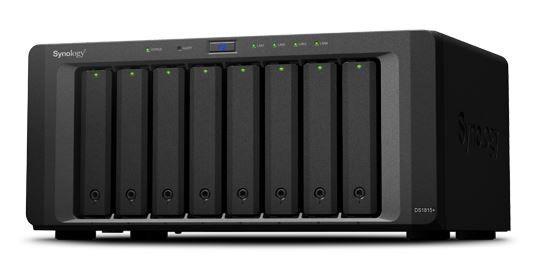 Ultra-performance NAS optimized for intensive tasks and encryption
Featuring a quad-core processor, hardware encryption engine, and flawless software integration, DS1815+ is a powerful, expandable 8-bay NAS server that delivers outstanding speed and accelerated data encryption. Easily scalable, the DS1815+ can be equipped with up to 6GB of DDR3 RAM and host up to 144TB of raw capacity with two Synology DX513 units.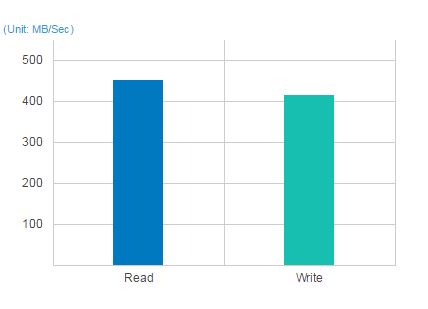 DS1815+ is powered by a quad-core CPU running at 2.4 GHz. Combined with 2GB of DDR3 RAM (expandable to 6GB), it delivers blazing-fast performance over 450 MB/s reading and 412 MB/s writing.1 That much power makes it easy for DS1815+ to multitask and provide consistently high throughput to all connected clients.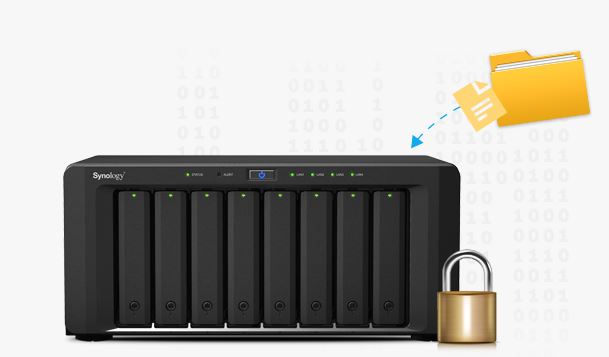 Encrypting data is essential to a healthy security policy. Equipped with a dedicated hardware encryption engine, DS1815+ is the ideal digital locker for sensitive data; files and folders are encrypted on the fly without any perceived performance loss. DS1815+ delivers encrypted data transmission speeds over 450 MB/s reading and 190 MB/s writing.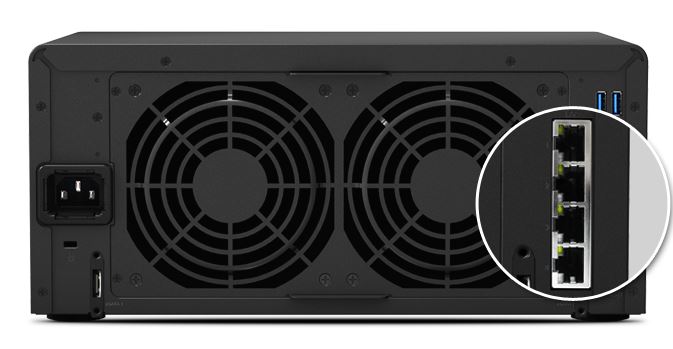 Equipped with four Ethernet ports featuring failover and Link Aggregation support, DS1815+ ensures continual network uptime even if LAN connection malfunction occurs on one port, reducing the chance of service disruption and costly downtime. Link Aggregation improves connection speeds beyond the limits of a single network cable or port.

As your data storage needs grow, DS1815+ can be connected to dedicated DX513 expansion units2 for additional storage on the fly, growing capacity with minimal effort. With two DX513 expansion units connected through specially designed eSATA connectors, raw capacity can be as high as 144TB3.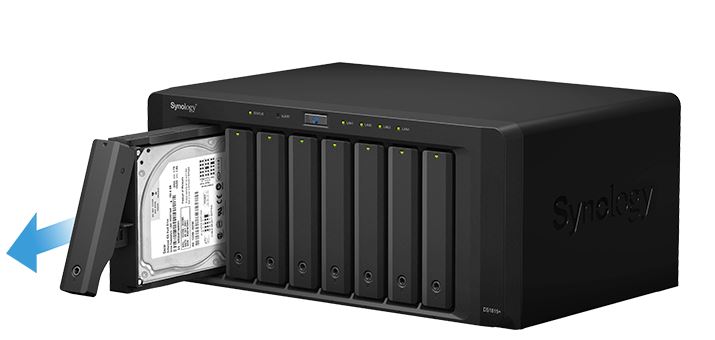 Easy installation and hot-swappable hard drive support ensures easy maintenance and continuous service uptime should a hard drive need replacement. In addition, DS1815+ incorporates a passive cooling design to reduce dependency on the dedicated processor cooling fan, thus mitigating any critical point of failure. When the system detects a fan failure, the built-in redundancy mechanism ensures continuous operation until the replacement fan arrives.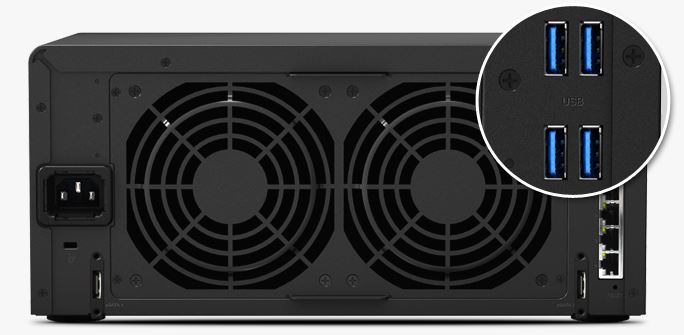 DS1815+ boasts USB 3.0 and eSATA ports to connect to various kinds of external storage devices, while ensuring fast and efficient file transfer speeds. Support for USB 3.0 offers transfer speeds of up to 5 Gbps (about 10 times faster than USB 2.0), meaning it takes less time to transfer data to external hard drives, while also consuming less power.
Datasheet