Rail Kit RKS1317/RKM114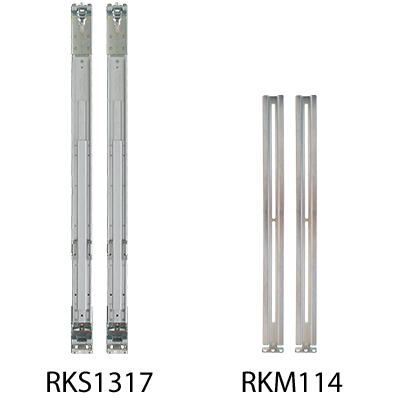 Synology Rail Kits are designed for placement of your Rack Station in the rack. Synology RKS1317 comes with guides to the Rack Station in and can be easily extended, for maintenance, while the Synology Rack Station RKM114 your fixes in a rack.
Synology Rail Kits are backed with Synology's one-year limited warranty.

Technical specifications:
-Physical specifications for Synology RKS1317
• The width of the mounting beam must be equal to or greater than 451 mm
• The width of the panel must be equal to or greater than 480 mm
• Rack mounting depth: 610 mm ~ 890 mm
• Mounting holes must be square and be at least 9.5 mm x 9.5 mm
-Physical specifications for Synology RKM114
• The width of the mounting beam must be equal to or greater than 451 mm
• The width of the panel must be equal to or greater than 480 mm
• Rack mounting depth: 570 mm ~ 720 mm (for 13 series and earlier models 1U)
• Rack mounting depth: 570mm ~ 810mm (14-series and future models 1U)
Hardware Installation Guide