QNAP TVS-882BRT3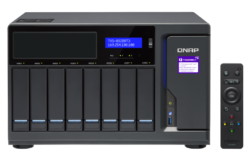 The TVS-882BRT3 uses 7th Generation Intel® 14nm multi-core processors and features Thunderbolt™ 3 (40 Gbps) connectivity, including a unique Thunderbolt-to-Ethernet (T2E) 10 GbE converter, and is ideal for online video editing and high-speed file sharing. The TVS-882BRT3 comes with a 5.25-inch SATA expansion bay, allowing you to install compatible disc drives or a RDX docking station (models with a pre-installed optical disc drive or a RDX docking station are available).
Akitio Node Pro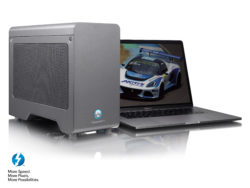 Thunderbolt™ 3 eGXF box
Low cost expansion chassis designed to house an external graphics card.
Akitio Thunder3 Quad X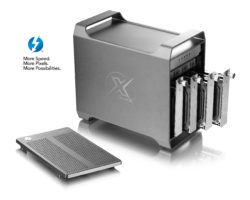 Thunderbolt 3 interface for lightning fast transfer speeds up to 40 Gbps
Second Thunderbolt 3 port supports Thunderbolt 3, USB 3.1 (10 Gbps), and DisplayPort devices
Power delivery provides up to 27W of power to recharge compatible laptops
Dedicated DisplayPort for additional monitor to expand the workspace